SKORPION K2 RGB GAMING KEYBOARD
LIGHT YOUR PATH TO VICTORY
The new CyberPowerPC Skorpion K2 RGB Mechanical Gaming Keyboard is the evolution of our bestselling K1 series and now offers a new slick design with the same Kontact™ Blue Mechanical Key Switches.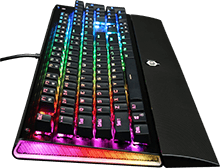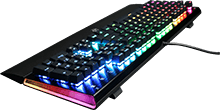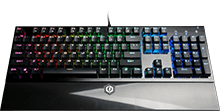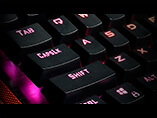 Take A Closer LookClick to watch the video
Watch it Now
Clicky & Tactile Mechanical Switches
The CyberPowerPC SKORPION Series of mechanical keyboards feature our unique CP Kontact™ Blue Key Mechanical Switches designed for Low Resistance with a click style Force Feedback. It's a Professional level of gaming performance at an unbelievable price exclusively for CyberPowerPC customers.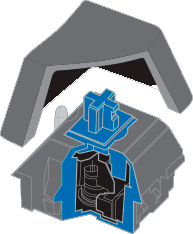 Simple Design, Feature Rich
The CyberPowerPC Skorpion K2 Series is a fully mechanical gaming keyboard with a sturdy brushed aluminum chassis for a solid professional look with a cool to the touch feel. It's built with our custom Kontact™ Blue switches which is a light, tactile, clicky mechanical keyboard switch. Available with 16 Million Color RGB, 104 Individual key backlighting and 100% anti-ghosting ensure accuracy during gameplay so it won't miss any important keystroke even under the most extreme gaming conditions.

Programmable Lighting
Customization
The Skorpion K2 series features customizable lighting effects with predefined options or individual key programming. It also features an easily detachable wrist rest.
Detachable Rest
RGB Keys
Clean & Bright
Individual Key RGB Lighting lets you pick the color to match your system or your mood and ambient lighting helps subtly light up your surroundings to see better in dark gaming spaces.
Programmable
Included software which allows you to choose specific colors for the entire keyboard or specific keys, create macros, assign key functions or pick from a list of predefined settings.
Download Software
Specifications
KEY SWITCHES
CyberPowerPC
Kontact™ Blue Key
Mechanical
RGB
16.8 Million Colors
Individually
Addressable Keys
DIMENSIONS
45mm Length
20.5mm Width
2mm Height
ACCESSORIES
Built-In Removable
EZ Key Remover
Top Video

Gallery

Clicky & Tactile Mechanical Switches

Simple Design, Feature Rich

Customization

Clean & Bright

Specifications
Programmable Lighting
Many modes from all on to more unique modes such as fading, key-by-key lighting and much more.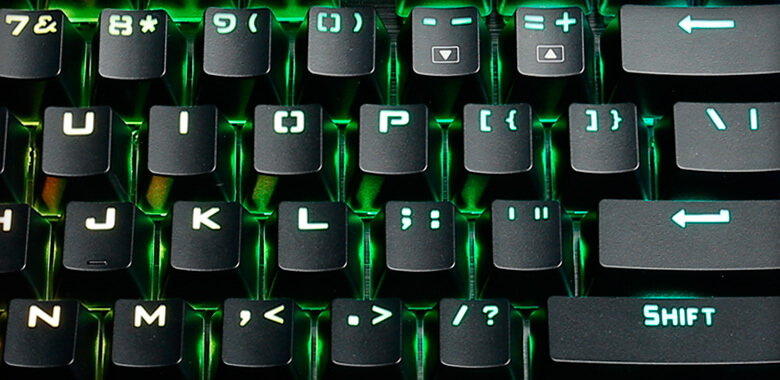 Detachable Wrist Rest
The Skorpion K2 gaming keyboard also features a easily detachable wrist rest to suit your needs and space.
RGB Key Caps
Each key cap is indivudally lit with RGB lighting so it's individually addressable so you can be sure that each key has a bright and consistant light.