AMD Advantage Desktops
Legendary Gaming Desktops
Whether you are gaming, streaming, or creating, AMD Advantage™ Desktops are purposefully engineered to be the most exceptional PCs on the market.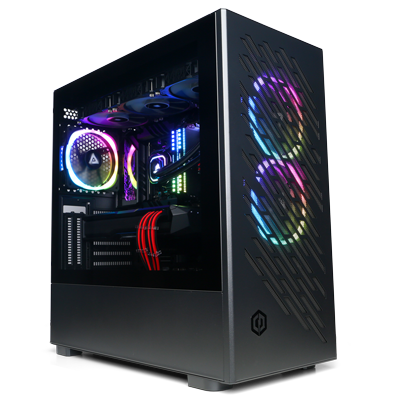 AMD Advantage Gaming PC GM 99607
Windows 11 Home AMD Ryzen™ 9 7950X Processor AMD Radeon™ RX 7900 XTX 24GB Video 32GB GSKILL TRIDENT Z5 RGB DDR5/6000MHz RAM ASROCK X670E PG Lightning AM5 Motherboard 2TB SOLIDIGM P41 Plus M.2 PCIe SSD

Amplified Performance
Together, the Ryzen™ 7000 series processor , Radeon™ RX 7000 series graphics and AMD Smart Technologies raise the bar for performance. Conquer battles, cross finish lines, and traverse new worlds as a gamer. Reach peak performance across the full spectrum of design, creation and rendering as a creator.
Advanced Graphics
Breakthrough new levels of performance with up to 24GB of GDDR6 memory and blazing fast clock speeds to deliver an incredible experience at 4K and beyond. Radeon™ RX 7900 Series graphics feature advanced AMD RDNA™ 3 compute units, with 2nd generation raytracing accelerators and new AI accelerators to deliver incredible performance while maximizing graphical fidelity.


Built to Game
Handle even the most demanding games with a premium gaming desktop equipped with a liquid cooled CPU, a minimum of 2TB of NVMe SSD storage and 32GB of dual channel DDR5 EXPO memory. And optimized fan speed and thermal management means your desktop finds the right balance to maintain high performance no matter how long you play.

© 2022 Advanced Micro Devices, Inc. All rights reserved. AMD, the AMD Arrow logo, Ryzen, and combinations thereof, are trademarks of Advanced Micro Devices, Inc.