When there's a lot to do, let Windows 11 help you get it done. With faster load times and higher frame rates you can play hundreds of high-quality PC games for one low monthly price with PC Game Pass.1
Esports Essential Gaming PC
Windows 11 Home AMD Ryzen™ 5 5500 Processor AMD Radeon™ RX 6500 XT 4GB Graphics 16GB DDR4/3600MHz RAM GIGABYTE B550 UD AC ATX Motherboard 2TB WD Blue SN580 M.2 PCIe SSD
Est. ship date: 10/3/2023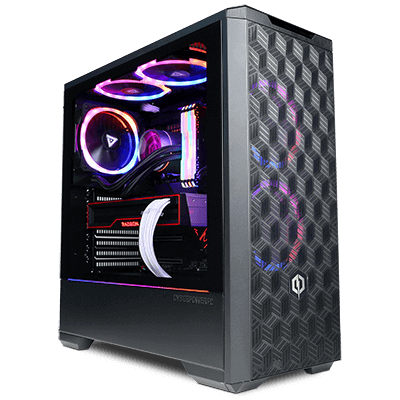 Xtreme 4060 Ti Gaming PC
Windows 11 Home Intel® Core™ Processor i7-13700KF GeForce RTX™ 4060 Ti 8GB GDDR6 Video Card 16GB (16GBx1) DDR5/6000MHz Memory ASUS PRIME Z790-P WIFI D5 DDR5 Motherboard 2TB WD Blue SN580 M.2 PCIe SSD
Est. ship date: 10/3/2023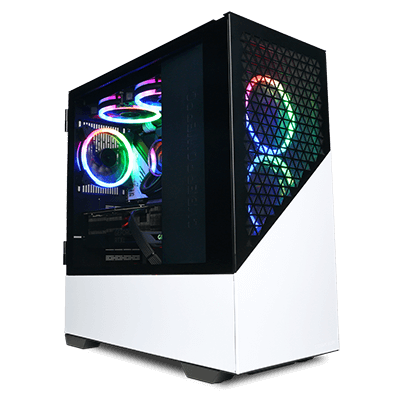 Ultra 4070 Gaming PC
Windows 11 Home AMD Ryzen™ 7 7800X3D Processor GeForce RTX™ 4070 12GB GDDR6X Video Card 16GB (16GBx1) DDR5/6000MHz Memory ASRock B650M-C AM5 Micro ATX Motherboard 2TB WD Blue SN580 M.2 PCIe SSD
Est. ship date: 10/3/2023

Creator PC Ultimate
Windows 11 Home Intel® Core™ Processor i9-13900K GeForce RTX™ 4090 24GB GDDR6X Video Card 32GB (16GBx2) DDR5/6000MHz Memory ASUS PRIME Z790-P WIFI D5 DDR5 Motherboard 2TB WD Blue SN580 M.2 PCIe SSD
Est. ship date: 10/3/2023
Gaming PC Infinity 8800 Pro SE
Windows 11 Home Intel® Core™ Processor i9-13900KF AMD Radeon™ RX 7800 XT 16GB Video 32GB (16GBx2) DDR5/6000MHz Memory ASUS PRIME Z790-P WIFI D5 DDR5 Motherboard 2TB WD Blue SN580 M.2 PCIe SSD
Est. ship date: 10/3/2023
Syber M Pro 200
Windows 11 Home Intel® Core™ Processor i7-12700KF Intel® Arc™ A770 8G GDDR6 Video Card 16GB (16GBx1) DDR5/6000MHz Memory ASUS PRIME Z790-P WIFI D5 DDR5 Motherboard 2TB WD Blue SN580 M.2 PCIe SSD
Est. ship date: 10/3/2023
With the all new Windows 11, gaming never looked so good as it does now. With windows 11 you can play both next generation and classic games with easy. As everyone already knows there are more games on Windows then there is on any other platform and Windows 11 only lifts up the great experience you already had with all Windows 10 game tiles you loved before but also is design to offer new exciting experiences for Windows 11 gamers with the next generation of Direct X 12 games coming out.
Microsoft Windows 11 | Gaming PCs and Laptops | CyberPowerPC FAQs
Is Windows 11 good for gaming?
Windows 11 will improve your gaming experience. Unlike Windows 10, Windows 11 supports the newest gaming technologies, some previously available only for Xbox users. The Game Mode that helped Windows 10 run newer games on older setups is available on Windows 11 too, but it's improved.
Can Windows 11 run any game?
Unlike some previous Windows launches, Windows 11 is good for gaming. It doesn't introduce any major changes to the file system or APIs, so any games that work on Windows 10 should work on the new version.
Does Windows 11 affect gaming performance?
Windows 11 is mostly just a reskin of Windows 10; at its core, so they are pretty much the same operating system. Therefore, programs which run on Windows 10 should run just fine on Windows 11 as well. However Windows 11 does have newer gaming optimizations such as those made to Direct X which should improve compatibility and performance with newer games.
Hardware dependent. Language support may vary by market.
[1] Terms and exclusions apply. Game catalog varies over time, by region, and by device. Requires Windows 10/11 (with updates); excludes S mode and ARM devices. See xbox.com/pcgamepass and https://www.ea.com/ea-play/terms and https://www.ea.com/ea-play for details.
[2] See https://www.ea.com/ea‑play/terms and https://www.ea.com/ea‑play for details. The EA logo and Battlefield are trademarks of Electronic Arts Inc. © FIFA is a copyright and/or trademark of FIFA. All rights reserved. Manufactured under license by Electronic Arts Inc. STAR WARS © & TM 2019 Lucasfilm Ltd. All rights reserved.
[3] Hardware dependent.
[4] Subscription sold separately.
[5] Some layouts only available based on display resolution and scale settings.