AMD Radeon RX 7000 Series Graphics Cards | CyberPowerPC
AMD Radeon RX 7000 Series Graphics Cards | CyberPowerPC
AMD Radeon 7000 Series
Together We Advance Gaming
The Most Advanced Graphics for Gamers and Creators
Experience unprecedented performance, visuals, and efficiency at 4K and beyond with AMD Radeon™ RX 7000 Series graphics cards, the world's first gaming GPUs powered by AMD RDNA™ 3 chiplet technology. Immerse yourself in breathtaking visuals with the pinpoint color accuracy of AMD Radiance Display™ Engine and boost frame rates with AMD FidelityFX™ Super Resolution and Radeon™ Super Resolution upscaling technologies.1,2 To unlock even more performance, combine AMD Radeon™ RX 7000 Series graphics and compatible AMD Ryzen™ processors to activate AMD smart technologies.3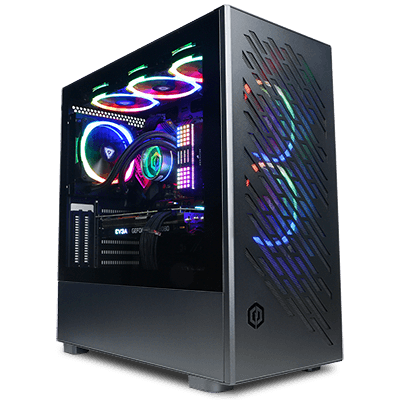 Fall Massive Gaming Ryzen 9
Windows 11 Home AMD Ryzen™ 7 7800X3D Processor AMD Radeon™ RX 7900 GRE 16GB Video 32GB (16GBx2) DDR5/6000MHz Memory 2TB WD Blue SN580 M.2 PCIe SSD ASRock B650M-C AM5 Micro ATX Motherboard
Est. ship date: 10/3/2023

AMD Advantage Performance Gaming PC
Windows 11 Home AMD Ryzen™ 7 7700X Processor AMD Radeon™ RX 7900 XT 20GB Video 32GB GSKILL TRIDENT Z5 RGB DDR5/6000MHz RAM ASROCK X670E PG Lightning AM5 Motherboard 2TB Kingston SNV2S/2000G (PCIe Gen4) NVMe M.2 SSD
AMD Radeon™ RX 7700 XT and 7800 XT
Game. Stream. Advance.
Experience incredible performance, visuals, and efficiency when gaming and streaming with the AMD Radeon™ RX 7700 XT and 7800 XT graphics cards, powered by the AMD RDNA™ 3 architecture.

See These Systems Now
Performance
Breakthrough Performance
Immerse yourself in next-generation desktop experiences on some of the most advanced high refresh rate displays with up to 16GB of GDDR6 memory, new frame generation technologies, advanced raytracing, AI accelerators, AV1 encoding4, and support for the latest DisplayPort™ 2.1 technology. The Radeon™ RX 7700 XT and 7800 XT delivers an incredible high refresh 1440p gaming & streaming experience, with additional video memory to step into 4K.
Visuals
Breathtaking Visuals
Discover new levels of fidelity and ultra-fast gameplay with High-Performance Rendering, a combination of compute-based AMD FideltyFX™ features and upscaling technologies, to deliver world-class visuals with remarkable performance. Further immerse yourself with the AMD Radiance Display™ Engine and DisplayPort™ 2.1 to experience up to 68 billion colors at up to 8K 165Hz.
AMD Graphics & Processors
Better Together
Combine AMD Radeon™ RX 7000 Series graphics cards and AMD Ryzen™ processors to activate AMD smart technologies3. You can unleash outstanding performance to give you an edge in the game. Advance your AMD Radeon™ RX 7000 Series GPU with the AMD Software: Adrenalin Edition™ application, featuring bulletproof drivers, for the best PC gaming experiences.
AMD FidelityFX™ Super Resolution
Upsize Performance. Maximize Fidelity
AMD FidelityFX™ Super Resolution technology1 takes upscaling technology to the next level. Providing incredible image quality while boosting framerates in supported games. AMD Radeon™ Super Resolution (RSR)2 leverages FSR technology on the driver level, giving you upscaled performance benefits across thousands of games.
AMD Ryzen 7000 Series
Get Starfield™ Premium Edition with select systems
Qualifying AMD Processors & Graphics Cards
AMD Radeon & Ryzen Game Bundle
Get Lies of P when you buy a system powered by select AMD Ryzen™ processors or AMD Radeon™ RX Series graphics cards
Qualifying AMD Processors or Graphics Cards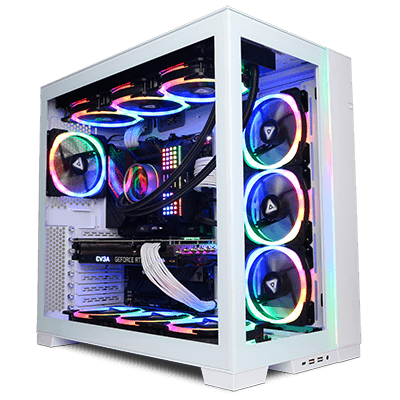 ANTHONYZ 100
Windows 11 Home AMD Ryzen™ 7 7700X Processor AMD Radeon™ RX 7900 XT 20GB Video 32GB (16GBx2) DDR5/6000MHz Memory ASROCK X670E PG Lightning AM5 Motherboard 2TB Kingston SNV2S/2000G (PCIe Gen4) NVMe M.2 SSD
Est. ship date: 10/3/2023
Radeon RX 7000 Series allow you to experience unprecedented performance, visuals, and efficiency at 4K and beyond. Take on your favorite games with the worlds first GPUs powered by RDNA3 chiplet technology. Game and create with great AMD features like AMD Radiance Display Engine, and AMD Fidelity FX Super Resolution. Take your custom gaming pc from CyberPowerPC to the next level by pairing your Radeon RX 7000 Series graphics card with an AMD Ryzen Processor, especially the latest AMD Ryzen 7000 Series CPUs. Tap into all AMD performance with AMD Smart technologies for the ultimate gaming experience. Currently AMD Radeon RX 7900 XTX and Radeon RX 7900 XT graphics cards are available in our custom gaming PCs.
AMD Radeon RX 7000 Series Graphics Cards | CyberPowerPC FAQs
Is the RX 7900 XTX good for gaming?
Whether you want to enjoy high frame rate 1440p or 4K gaming, AMD's latest flagship GPU, the Radeon RX 7900 XTX is a gaming powerhouse.
Is the Radeon RX 7900 xt worth it?
The Radeon RX 7900 XT is a big performance leap versus last generation Radeon cards. The RX 7900 XT is a great choice for gamers looking to play at 1440p or 4K, with access to great additional features like 20 GB of VRAM, AMD FSR, and support for AV1 hardware encode and decode.
Is the RX 7600 good?
AMD's Radeon RX 7600 is a great option for gamers who want to play modern games at 1080P resolution and max graphical settings with a solid frame rate. The RX 7600 features advanced AMD RDNA3 compute units, second generation raytracing accelerators, and new AI accelerators to deliver great performance.

1. AMD FidelityFX Super Resolution (FSR) 1 and 2 are available on select games and require developer integration. See https://www.amd.com/en/technologies/fidelityfx-super-resolution for a list of supported games. AMD FidelityFX Super Resolution is "game dependent" and is supported on the following AMD products. FSR 1.0: AMD Radeon™ RX 7000, 6000, RX 5000, RX 500, RX Vega series graphics cards, RX 480, RX 470, RX 460, and all AMD Ryzen™ processors with Radeon™ graphics if the minimum requirements of the game are met. FSR 2.0: AMD Radeon™ RX 7000, 6000, RX 5000, RX Vega Series graphics cards, and the Radeon™ RX 590 graphics card if the minimum requirements of the game are met. AMD does not provide technical or warranty support for AMD FidelityFX Super Resolution enablement on other vendors' graphics cards. GD-187

2.As of March 2023, Radeon Super Resolution (RSR) is compatible with Radeon RX 5000 series graphics and newer and works with games that support exclusive full-screen mode. AMD Software: Adrenalin Edition 22.3.1 or newer is required. For additional information, visit www.amd.com/rsr. GD-197.

3.AMD smart technologies, including AMD SmartAccess Graphics, SmartAcess Storage, SmartAccess Video, SmartShift Eco, and SmartShift Max may require OEM or developer enablement and are available with select configurations only. Select additional AMD hardware is required. For additional information see https://www.amd.com/en/graphics/amd-radeon-rx-laptops. GD-216.

4. Video codec acceleration (including at least the HEVC (H.265), H.264, VP9, and AV1 codecs) is subject to and not operable without inclusion/installation of compatible media players. GD-176