Esports Pro Gaming PC - The Best PC for Gaming and Streaming
Best Esports Gaming PC Computer Deals
Gaming PC Infinity 8800 Pro SE
Windows 11 Home Intel® Core™ Processor i9-13900KF AMD Radeon™ RX 7900 XTX 24GB Video 32GB (16GBx2) DDR5/6000MHz Memory ASUS PRIME Z790-P WIFI D5 DDR5 Motherboard 2TB Kingston SNV2S/2000G (PCIe Gen4) NVMe M.2 SSD
Est. ship date: 6/20/2023
Infinity 8800 Pro Gaming PC
Windows 11 Home Intel® Core™ Processor i9-13900KF GeForce RTX™ 4070 12GB GDDR6X Video Card 16GB (16GBx1) DDR5/6000MHz Memory ASUS PRIME Z790-P WIFI D5 DDR5 Motherboard 2TB Kingston SNV2S/2000G (PCIe Gen4) NVMe M.2 SSD
Est. ship date: 6/20/2023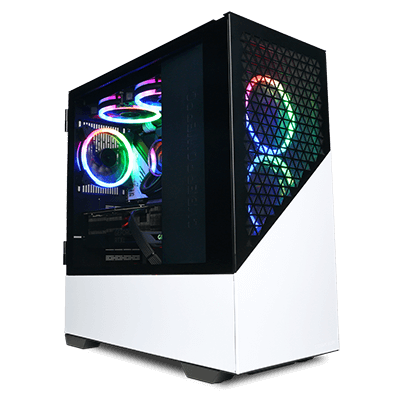 Dads and Grads RTX 4070 Ti
Windows 11 Home Intel® Core™ Processor i9-13900K GeForce RTX™ 4070 Ti 12GB GDDR6X Video Card 32GB (16GBx2) DDR5/6000MHz Memory 2TB Kingston SNV2S/2000G (PCIe Gen4) NVMe M.2 SSD ASUS PRIME Z790-P WIFI D5 DDR5 Motherboard
Est. ship date: 6/20/2023

Infinity XLC Gaming PC
Windows 11 Home Intel® Core™ Processor i9-13900K GeForce RTX™ 4070 Ti 12GB GDDR6X Video Card 16GB (16GBx1) DDR5/6000MHz Memory ASUS PRIME Z790-P WIFI D5 DDR5 Motherboard 1TB Kingston SNV2S/1000G PCIe Gen 4 SSD + 4TB HDD Combo
Est. ship date: 6/20/2023

Dads and Grads RTX 4070
Windows 11 Home Intel® Core™ Processor i7-13700K GeForce RTX™ 4070 12GB GDDR6X Video Card 16GB (16GBx1) DDR5/6000MHz Memory 2TB Kingston SNV2S/2000G (PCIe Gen4) NVMe M.2 SSD ASUS PRIME Z790-P WIFI D5 DDR5 Motherboard
Est. ship date: 6/20/2023
Gaming PC Master 9000
Windows 11 Home AMD Ryzen™ 7 7800X3D Processor GeForce RTX™ 4070 12GB GDDR6X Video Card 16GB (16GBx1) DDR5/6000MHz Memory ASRock B650M-C AM5 Micro ATX Motherboard 2TB Kingston SNV2S/2000G (PCIe Gen4) NVMe M.2 SSD
Est. ship date: 6/20/2023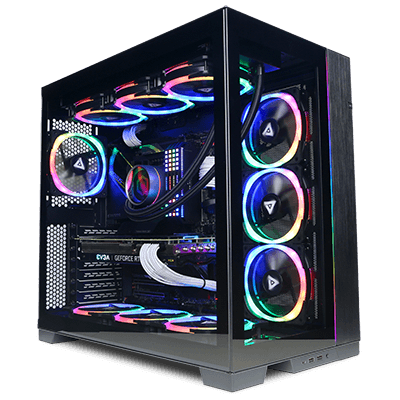 Gaming PC Master 9500
Windows 11 Home AMD Ryzen™ 9 7950X Processor AMD Radeon™ RX 7900 XTX 24GB Video 32GB (16GBx2) DDR5/6000MHz Memory ASUS PRIME X670-P WIFI AM5 ATX Motherboard 2TB SOLIDIGM P41 Plus M.2 PCIe SSD
Est. ship date: 6/20/2023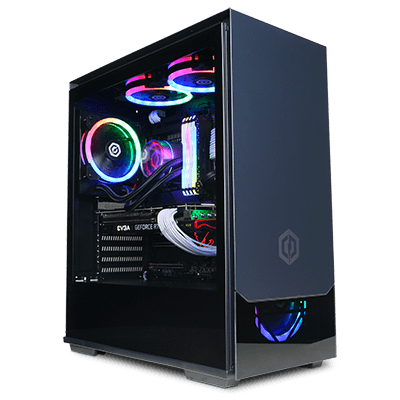 Gaming PC Master 8000
Windows 11 Home AMD Ryzen™ 7 5700 Processor GeForce RTX™ 3050 8GB GDDR6 16GB DDR4/3600MHz RAM GIGABYTE B550 UD AC ATX Motherboard 2TB Kingston SNV2S/2000G (PCIe Gen4) NVMe M.2 SSD
Est. ship date: 6/20/2023
Gaming PC Xtreme XT
Windows 11 Home Intel® Core™ Processor i7-13700KF GeForce RTX™ 4070 12GB GDDR6X Video Card 32GB (16GBx2) DDR5/6000MHz Memory ASUS PRIME Z790-P WIFI D5 DDR5 Motherboard 2TB Kingston SNV2S/2000G (PCIe Gen4) NVMe M.2 SSD
Est. ship date: 6/20/2023

SUMMIT1G 100
Windows 11 Home Intel® Core™ Processor i9-13900KF GeForce RTX™ 4060 Ti 8GB GDDR6 Video Card 16GB (16GBx1) DDR5/6000MHz Memory ASUS PRIME Z790-P WIFI D5 DDR5 Motherboard 2TB Kingston SNV2S/2000G (PCIe Gen4) NVMe M.2 SSD
Est. ship date: 6/20/2023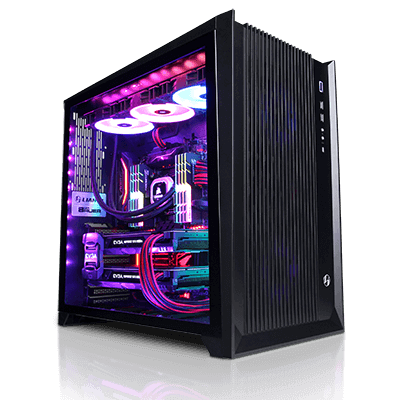 ANTHONYZ 100
Windows 11 Home AMD Ryzen™ 7 7700X Processor AMD Radeon™ RX 7900 XT 20GB Video 16GB (16GBx1) DDR5/6000MHz Memory ASUS PRIME X670-P WIFI AM5 ATX Motherboard 2TB Kingston SNV2S/2000G (PCIe Gen4) NVMe M.2 SSD
Est. ship date: 6/20/2023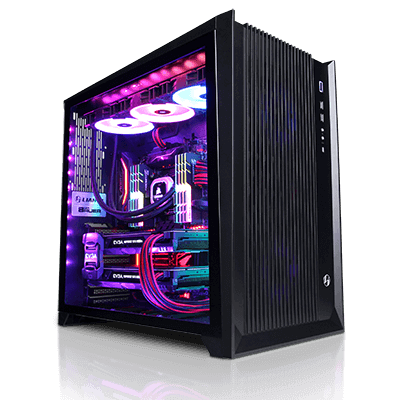 BLUDDSHED 100
Windows 11 Home AMD Ryzen™ 7 7800X3D Processor GeForce RTX™ 4070 Ti 12GB GDDR6X Video Card 16GB (16GBx1) DDR5/6000MHz Memory ASUS PRIME X670-P WIFI AM5 ATX Motherboard 2TB Kingston SNV2S/2000G (PCIe Gen4) NVMe M.2 SSD
Est. ship date: 6/20/2023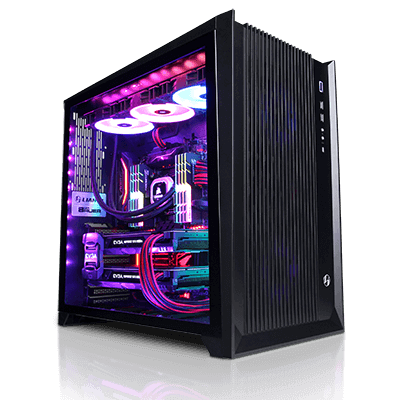 DASMEHDI 100
Windows 11 Home AMD Ryzen™ 9 7950X Processor GeForce RTX™ 4090 24GB GDDR6X Video Card 32GB (16GBx2) DDR5/6000MHz Memory ASUS PRIME X670-P WIFI AM5 ATX Motherboard 2TB Kingston SNV2S/2000G (PCIe Gen4) NVMe M.2 SSD
Est. ship date: 6/20/2023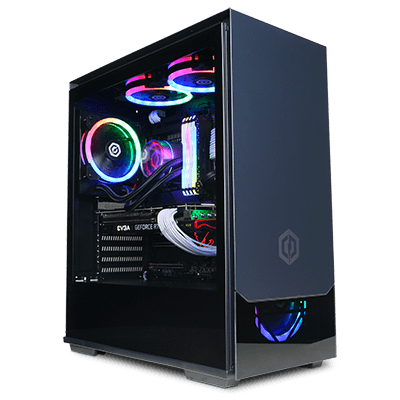 IEM Challenger
Windows 11 Home Intel® Core™ Processor i5-13600KF GeForce RTX™ 3060 12GB GDDR6 16GB (16GBx1) DDR5/6000MHz Memory ASRock Z790-C/D5 DDR5 Motherboard 2TB Kingston SNV2S/2000G (PCIe Gen4) NVMe M.2 SSD
Est. ship date: 6/20/2023
Nothing Found.
The Esports pro gaming PC space has never been more popular, with pro gamers and streamers using them to gain an edge over their opponents. At CyberPowerPC, we have a range of esports pro gaming PCs that are specifically designed for pro gamers and streaming PC enthusiasts. Our esports pro gaming PCs come with the latest CPUs, GPUs and memory kits, so you can be sure that you're getting the best possible performance. With high performance configuration and high FPS gaming PC specs, you can easily stream your games and broadcast your gameplay to the world at the highest resolutions, and maximum graphic settings for both you and your viewers to enjoy. So if you're looking for the best PC for gaming and streaming, make sure you check out CyberPowerPC. We have the world's best gaming PC for every pro gamer and streamer.
Esports PC - Best PC for Gaming and Streaming | CyberPowerPC FAQs
What PC do they use in esports?
It depends on the game, for example League of Legends will probably do fine on a starter gaming PC for as low as $800. However, FPS games like Valorant are going to be priced higher. Just, keep in mind that high performance will always provide a higher competitive edge.
Can you play esports on PC?
You can absolutely play esports on a PC, after all, a majority of today's top esports games are PC based. Some cross platform games allow you to play on phones, tablets, consoles and PCs, however, most agree that PC players often have an overwhelming advantage.
What are the specs of an esports PC?
This depends on the game, if your esports game is not FPS dependent, such as Hearthstone or Team Fight Tactics, then any of our starter PCs at around $800 will be adequate. However, FPS intensive games like PUBG or Fortnite are going to need high specs to be competitive.
How good of a pc do you need for esports?
Generally, you only need a pc that meets the game's recommended requirements. However, much of the difference depends on your abilities. Esports pros play on the best PCs because they are able to perceive and take advantage of a fraction of a second difference.