NVIDIA Gaming PC Desktop Computers
Best Nvidia Gaming PCs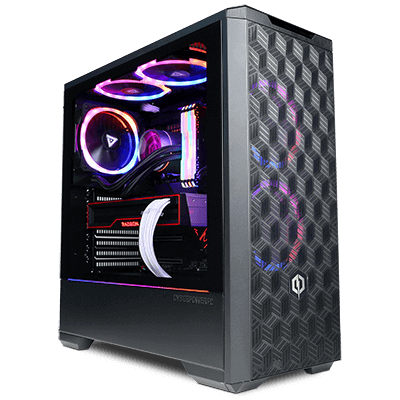 Xtreme 4060 Ti Gaming PC
Windows 11 Home Intel® Core™ Processor i7-13700KF GeForce RTX™ 4060 Ti 8GB GDDR6 Video Card 16GB (16GBx1) DDR5/6000MHz Memory ASUS PRIME Z790-P WIFI D5 DDR5 Motherboard 2TB WD Blue SN580 M.2 PCIe SSD
Est. ship date: 10/3/2023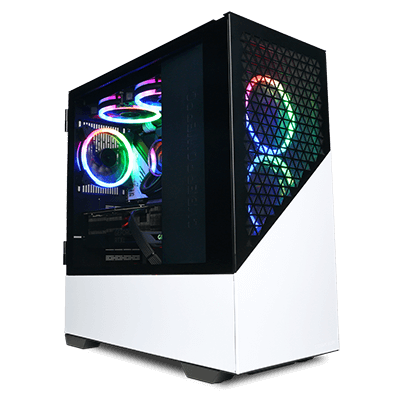 Ultra 4070 Gaming PC
Windows 11 Home AMD Ryzen™ 7 7800X3D Processor GeForce RTX™ 4070 12GB GDDR6X Video Card 16GB (16GBx1) DDR5/6000MHz Memory ASRock B650M-C AM5 Micro ATX Motherboard 2TB WD Blue SN580 M.2 PCIe SSD
Est. ship date: 10/3/2023

Creator PC Ultimate
Windows 11 Home Intel® Core™ Processor i9-13900K GeForce RTX™ 4090 24GB GDDR6X Video Card 32GB (16GBx2) DDR5/6000MHz Memory ASUS PRIME Z790-P WIFI D5 DDR5 Motherboard 2TB WD Blue SN580 M.2 PCIe SSD
Est. ship date: 10/3/2023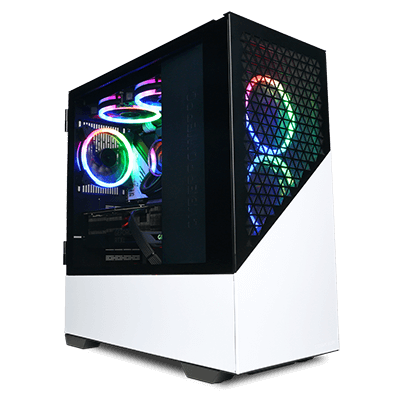 Infinity 8000 Gaming PC
Windows 11 Home Intel® Core™ Processor i7-12700KF GeForce RTX™ 3050 8GB GDDR6 16GB (16GBx1) DDR5/6000MHz Memory ASUS PRIME Z790-P WIFI D5 DDR5 Motherboard 2TB WD Blue SN580 M.2 PCIe SSD
Est. ship date: 10/3/2023
Infinity 8800 Pro Gaming PC
Windows 11 Home Intel® Core™ Processor i9-13900KF GeForce RTX™ 4070 12GB GDDR6X Video Card 16GB (16GBx1) DDR5/6000MHz Memory ASUS PRIME Z790-P WIFI D5 DDR5 Motherboard 2TB WD Blue SN580 M.2 PCIe SSD
Est. ship date: 10/3/2023

CyberPower Z790 i9 Configurator
Windows 11 Home Intel® Core™ Processor i9-13900KF GeForce RTX™ 4070 Ti 12GB GDDR6X Video Card 32GB (16GBx2) DDR5/6000MHz Memory ASUS PRIME Z790-P WIFI D5 DDR5 Motherboard 2TB WD Blue SN580 M.2 PCIe SSD
Est. ship date: 10/3/2023

Fall Massive Gaming RTX 4070
Windows 11 Home Intel® Core™ Processor i7-13700K GeForce RTX™ 4070 12GB GDDR6X Video Card 16GB (16GBx1) DDR5/6000MHz Memory 2TB WD Blue SN580 M.2 PCIe SSD ASUS PRIME Z790-P WIFI D5 DDR5 Motherboard
Est. ship date: 10/3/2023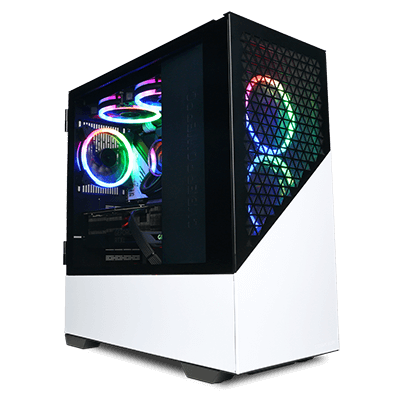 Fall Massive Gaming RTX 4070 Ti
Windows 11 Home Intel® Core™ Processor i9-13900K GeForce RTX™ 4070 Ti 12GB GDDR6X Video Card 32GB (16GBx2) DDR5/6000MHz Memory 2TB WD Blue SN580 M.2 PCIe SSD ASUS PRIME Z790-P WIFI D5 DDR5 Motherboard
Est. ship date: 10/3/2023
Fall Massive Gaming RTX 4060
Windows 11 Home Intel® Core™ Processor i5-13400F GeForce RTX™ 4060 8GB GDDR6 Video Card 16GB (16GBx1) DDR5/6000MHz Memory 2TB WD Blue SN580 M.2 PCIe SSD ASUS PRIME Z790-P WIFI D5 DDR5 Motherboard
Est. ship date: 10/3/2023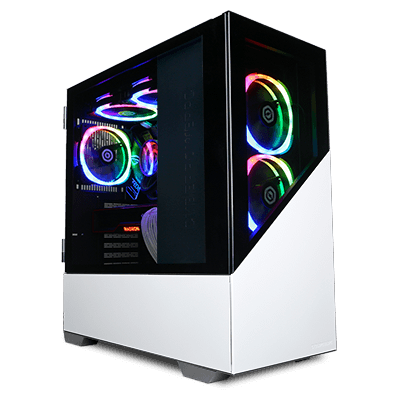 AMD Ryzen 7X Configurator
Windows 11 Home AMD Ryzen™ 7 7700 Processor GeForce RTX™ 4060 8GB GDDR6 Video Card 16GB (16GBx1) DDR5/6000MHz Memory ASRock B650M-C AM5 Micro ATX Motherboard 2TB WD Blue SN580 M.2 PCIe SSD
Est. ship date: 10/3/2023
Prebuilt Gaming PC GX 99173
Windows 11 Home Intel® Core™ Processor i5-12400F GeForce RTX™ 3060 12GB GDDR6 16GB (8GBx2) DDR4/3200MHz RAM B660 AC Motherboard 1TB WD Black SN750 SE M.2 PCIe SSD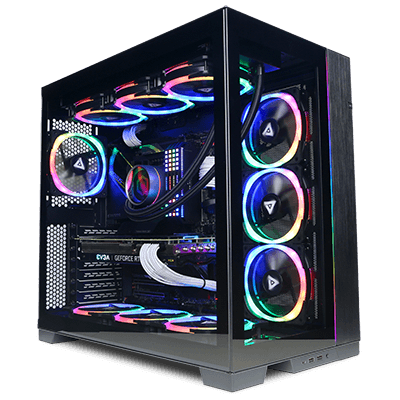 Infinity XLC Gaming PC
Windows 11 Home Intel® Core™ Processor i9-13900K GeForce RTX™ 4070 Ti 12GB GDDR6X Video Card 16GB (16GBx1) DDR5/6000MHz Memory ASUS PRIME Z790-P WIFI D5 DDR5 Motherboard 1TB Kingston SNV2S/1000G PCIe NVMe M.2 SSD
Est. ship date: 10/3/2023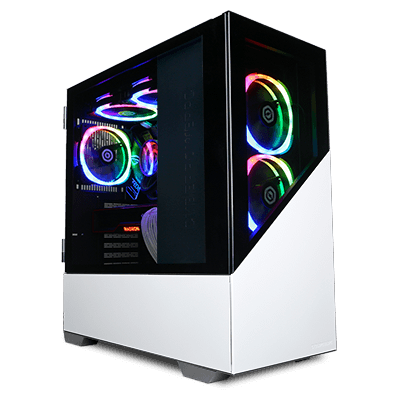 AMD Ryzen 9X Configurator
Windows 11 Home AMD Ryzen™ 9 7900X3D Processor GeForce RTX™ 4070 Ti 12GB GDDR6X Video Card 16GB (16GBx1) DDR5/6000MHz Memory ASRock B650M-C AM5 Micro ATX Motherboard 2TB WD Blue SN580 M.2 PCIe SSD
Est. ship date: 10/3/2023
Prebuilt Gaming PC GLX 99174
Windows 11 Home Intel® Core™ Processor i5-13600KF GeForce RTX™ 3060 Ti 8GB GDDR6 16GB (16GBx1) DDR5/4800MHz Memory Z790 DDR5 Motherboard 1TB WD Black SN750 SE M.2 PCIe SSD
$150 Off
FREE 2-DAY DELIVERY
Ships out Next Business Day
Est. ship date: 9/25/2023
Fall Massive Gaming Special I
Windows 11 Home Intel® Core™ Processor i5-13400F GeForce RTX™ 3050 8GB GDDR6 16GB (16GBx1) DDR5/6000MHz Memory ASUS PRIME Z790-P WIFI D5 DDR5 Motherboard 2TB WD Blue SN580 M.2 PCIe SSD
Est. ship date: 10/3/2023
Nothing Found.
Are you looking for a powerful gaming PC? CyberPowerPC has the perfect NVIDIA gaming PC for you. Our systems are designed to give you the best possible experience in the latest games. Plus, they come packed with features that will let you do more than just game. So whether you're into VR, streaming, or just want a great all-around machine, we've got something for everyone. With our new Ray-Tracing technology, we've squeezed every bit of performance out of these computers to maximize your gaming experience. So now you can take your gaming to new heights. Purchase an NVIDIA Gaming PC today.
NVIDIA Gaming PCs - Powered by GeForce RTX Graphics | CyberPowerPC FAQs
Is GeForce Nvidia good for gaming?
Many would argue that NVIDIA GeForce graphics cards are among the best graphics cards you can get for any gaming PC their all new RTX 4090 which outperform other brands in the same class.
How much is a gaming PC with RTX 3080?
Any of our CyberPowerPC gaming PCs that feature a RTX 3080 is going to likely start at around $2200 at a base level and can go upwards depending on other configured components.
Does Nvidia make desktop?
Nvidia does not make their own desktop computers, however Nvidia does work with partners like CyberPowerPC to develop what they considered certified PCs that they have tested and approved such as our GeForce PC program systems or our RTX Studio PCs.
What does GTX do in PC?
GTX was the model name for the previous generation of NVIDIA graphics cards. While today all high performance cards are now under the RTX model name, there are still lower mainstream GPUs in the GTX class such as the 16 series of GTX graphics cards.