Intel Extreme Masters Gaming PCs
Intel Extreme Masters IEM Esports Gaming PCs for Pro Gamers
IEM Challenger
Stay Competitive
The perfect system to stay competitive without compromising power and performance with an 12th Gen Intel® Core™ i7 Processor & NVIDIA® GeForce RTX™ 30 Series graphics.

OS: Windows 11 Home
CPU: Intel® Core™ Processor i5-12600K
RAM Memory:
16GB Kingston FURY Renegade 3200MHz
GPU: GeForce RTX™ 3060 12GB GDDR6
Storage: 1TB WD Black SN770 M.2 PCIe SSD
IEM Champion
Compete at a High Level
Compete with the best, at a high level with this powerful system using a high performance 12th Gen Intel® Core™ i9 Processor & NVIDIA® GeForce RTX™ 30 Series graphics.

OS: Windows 11 Home
CPU: Intel® Core™ Processor i7-12700K
RAM Memory:
16GB Kingston FURY Renegade 3200MHz
GPU: GeForce RTX™ 3080 10GB GDDR6X
Storage: 1TB WD Black SN770 M.2 PCIe SSD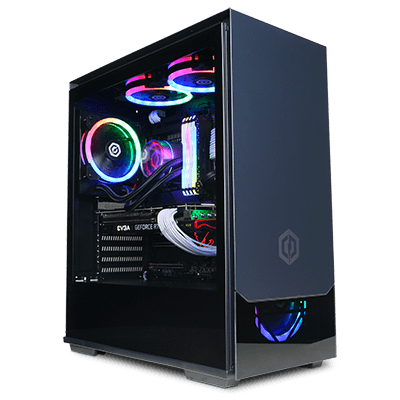 IEM Challenger
Windows 11 Home Intel® Core™ Processor i5-13600K GeForce RTX™ 4060 8GB GDDR6 Video Card 16GB (16GBx1) DDR5/6000MHz Memory ASUS PRIME Z790-P WIFI D5 DDR5 Motherboard 1TB WD Blue SN580 M.2 PCIe SSD
Est. ship date: 10/13/2023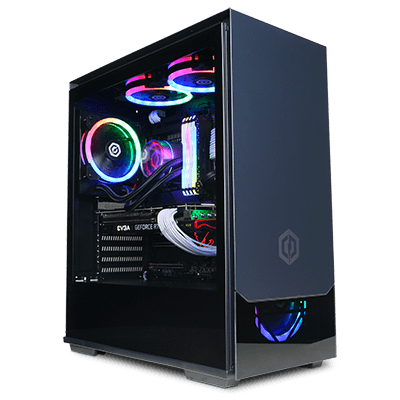 IEM Champion
Windows 11 Home Intel® Core™ Processor i7-13700K GeForce RTX™ 4070 Ti 12GB GDDR6X Video Card 16GB (16GBx1) DDR5/6000MHz Memory ASUS PRIME Z790-P WIFI D5 DDR5 Motherboard 1TB WD Blue SN580 M.2 PCIe SSD
Est. ship date: 10/13/2023
INTEL POWERED IEM SYSTEMS
GAME LIKE THE PROS
CyberPowerPC gaming desktops are powered by the latest in 12th Gen Intel Core processors that support the technologies and features that improve every aspect of your gaming experience.
12th Gen Intel Core Processors
Revolutionary performance & multitasking.
Divide and conquer.
Intel® Thread Director
Prioritizes and manages workloads, sending tasks to the best core for the job.1


Performance-cores
P-cores are built for performance across single and lightly-threaded workloads, enhancing activities like gaming and productivity.


Efficient-cores
E-cores are optimized for multi-threaded performance, minimizing interruptions from secondary tasks.
Performance beyond the cores.
The new processor architecture is also compatible with the latest platform innovations, giving you performance improvements throughout your PC.


Ready for what's next
Support for PCIe Gen 5 and DDR5 for high-performance components like memory and graphics.
Best-in-class connectivity
Thunderbolt™ 4 and Intel® Killer™ Wi-Fi 6/6E (Gig+) deliver fast transfer speeds and connections to peripherals.
2
Streamlined overclocking
Separate overclocking controls for both types of cores gives you nuanced personalization.
3
Game like the pros with Intel Extreme Masters Certified Gaming PCs. We've built this selection of Intel based gaming PCs with the competitive gamer in mind. We deliver on systems that provide the highest framerates and crispest graphics to give you that extra leg up on the competition. Stay competitive with the IEM Challenger, a system built with a 12th Gen Intel Core i7 processor and NVIDIA GeForce RTX 30 series graphics cards. Maybe you are looking to compete at the highest level? Then the IEM Champion is for you, equipped with the highest performing 12th Gen Intel Core i9 Processor and NVIDIA RTX 30 series graphics will have you gaming just like the pros.
Intel Extreme Masters Certified PCs | CyberPowerPC FAQs
What is Intel Extreme Masters?
Intel Extreme Masters is the longest running global pro gaming tour in the world. It began in 2006 by ESL, with the best gamers competing in Counter Strike: Global Offensive, StarCraft II and other esports titles.
What PC do they use in Esports?
While the brand of PC can vary depending on what the event is and who is sponsoring it, typically Esports pros use PCs similar to our IEM PC builds. This means a top of the line Intel Core Processor paired with and NVIDIA GeForce RTX graphics card is typically used by esports gamers, both pro and amateurs' alike.