Custom and Prebuilt Gaming PC Desktops
Best Gaming PCs
Daily Deal 3060
Windows 11 Home Intel® Core™ Processor i7-13700F GeForce RTX™ 3060 12GB GDDR6 32GB (16GBx2) DDR5/6000MHz Memory ASUS PRIME Z790-P WIFI D5 DDR5 Motherboard 1TB WD Black SN750 SE M.2 PCIe SSD
Esports Essential Gaming PC
Windows 11 Home AMD Ryzen™ 5 5500 Processor AMD Radeon™ RX 6500 XT 4GB Graphics 16GB DDR4/3600MHz RAM GIGABYTE B550 UD AC ATX Motherboard 1TB WD Black SN750 SE M.2 PCIe SSD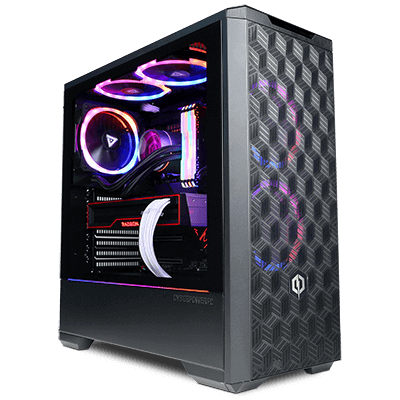 Xtreme 3060 Ti Gaming PC
Windows 11 Home Intel® Core™ Processor i7-13700KF GeForce RTX™ 3060 Ti 8GB GDDR6 32GB (16GBx2) DDR5/6000MHz Memory ASUS PRIME Z790-P WIFI D5 DDR5 Motherboard 1TB WD Black SN750 SE M.2 PCIe SSD
Esports Essential Gaming PC
Windows 11 Home AMD Ryzen™ 5 5500 Processor AMD Radeon™ RX 6500 XT 4GB Graphics 16GB DDR4/3600MHz RAM GIGABYTE B550 UD AC ATX Motherboard 1TB WD Black SN750 SE M.2 PCIe SSD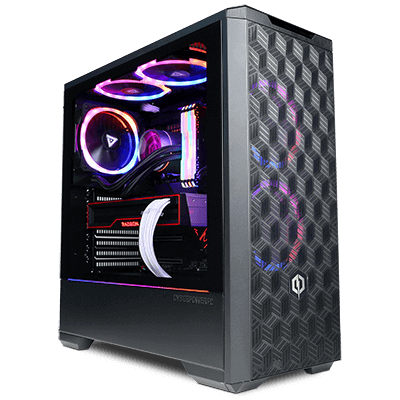 Xtreme 3060 Ti Gaming PC
Windows 11 Home Intel® Core™ Processor i7-13700KF GeForce RTX™ 3060 Ti 8GB GDDR6 32GB (16GBx2) DDR5/6000MHz Memory ASUS PRIME Z790-P WIFI D5 DDR5 Motherboard 1TB WD Black SN750 SE M.2 PCIe SSD
Ultra 3070 Gaming PC
Windows 11 Home AMD Ryzen™ 9 7900X3D Processor GeForce RTX™ 3070 8GB GDDR6 32GB (16GBx2) DDR5/6000MHz Memory ASRock B650M-C AM5 Micro ATX Motherboard 1TB WD Black SN750 SE M.2 PCIe SSD

Creator PC Ultimate
Windows 11 Home Intel® Core™ Processor i9-13900K GeForce RTX 4090 24GB GDDR6X Video Card 32GB (16GBx2) DDR5/6000MHz Memory ASUS PRIME Z790-P WIFI D5 DDR5 Motherboard 1TB WD Black SN750 SE M.2 PCIe SSD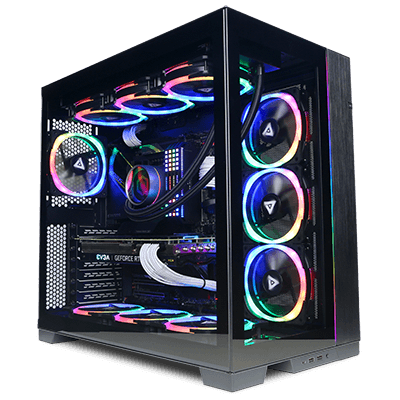 Gaming PC Infinity 8800 Pro SE
Windows 11 Home Intel® Core™ Processor i9-13900KF AMD Radeon™ RX 7900 XTX 24GB Video 32GB (16GBx2) DDR5/6000MHz Memory ASUS PRIME Z790-P WIFI D5 DDR5 Motherboard 1TB WD Black SN750 SE M.2 PCIe SSD
Syber M Pro 200
Windows 11 Home Intel® Core™ Processor i7-12700KF Intel® Arc™ A770 8G GDDR6 Video Card 32GB (16GBx2) DDR5/6000MHz Memory ASUS PRIME Z790-P WIFI D5 DDR5 Motherboard 1TB WD Black SN750 SE M.2 PCIe SSD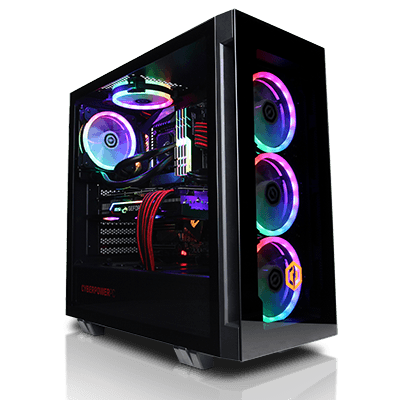 Infinity 8000 Gaming PC
Windows 11 Home Intel® Core™ Processor i7-12700F GeForce RTX™ 3050 8GB GDDR6 32GB (16GBx2) DDR5/6000MHz Memory ASUS PRIME Z790-P WIFI D5 DDR5 Motherboard 1TB WD Black SN750 SE M.2 PCIe SSD
Gamer Infinity 8800 Pro
Windows 11 Home Intel® Core™ Processor i7-13700K GeForce RTX™ 3070 Ti 8GB GDDR6X 32GB (16GBx2) DDR5/6000MHz Memory ASUS PRIME Z790-P WIFI D5 DDR5 Motherboard 1TB WD Black SN750 SE M.2 PCIe SSD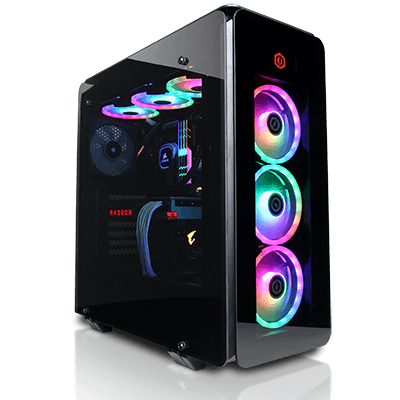 March RTX 4070 Ti
Windows 11 Home Intel® Core™ Processor i9-13900K GeForce RTX™ 4070 Ti 12GB GDDR6X Video Card 32GB (16GBx2) DDR5/6000MHz Memory 1TB WD Black SN750 SE M.2 PCIe SSD ASUS PRIME Z790-P WIFI D5 DDR5 Motherboard
CyberPower Z790 i9 Configurator
Windows 11 Home Intel® Core™ Processor i9-13900KF GeForce RTX™ 4070 Ti 12GB GDDR6X Video Card 32GB (16GBx2) DDR5/6000MHz Memory ASUS PRIME Z790-P WIFI D5 DDR5 Motherboard 1TB WD Black SN750 SE M.2 PCIe SSD
March Special I
Windows 11 Home Intel® Core™ Processor i5-13400F GeForce RTX™ 3050 8GB GDDR6 32GB (16GBx2) DDR5/6000MHz Memory ASRock Z790-C/D5 DDR5 Motherboard 1TB WD Black SN750 SE M.2 PCIe SSD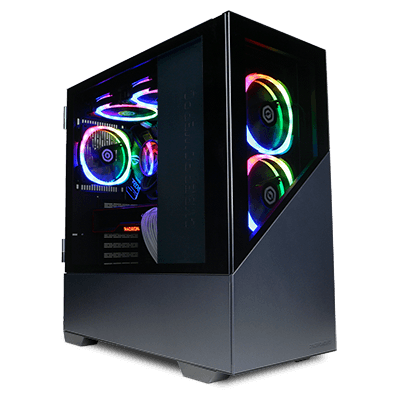 March 2023
Windows 11 Home Intel® Core™ Processor i7-13700KF GeForce RTX™ 3070 Ti 8GB GDDR6X 32GB (16GBx2) DDR5/6000MHz Memory ASRock Z790-C/D5 DDR5 Motherboard 1TB WD Black SN750 SE M.2 PCIe SSD
Nothing Found.
Attention, gamers! Are you ready to take your gaming to the next level? Look no further than our range of gaming PCs, purpose built to take on any challenge - from flawlessly executing gameplay to seamlessly multitasking and communicating without interruptions. Systems specifically designed with top-quality components to elevate your gaming experience to new heights.
From affordable options to PCs tailored to your favorite games, or a completely custom build using our PC configurator, we have you covered. When finding the gaming PC of your dreams, trust the CyberpowerPC team to deliver unparalleled performance.
What is a Gaming PC?
A gaming PC is a specifically designed desktop computer to play video games. These computers typically have high-performance hardware components, such as powerful processors, high-end graphics cards, and fast memory, which allow them to run demanding games smoothly and at high resolutions. Gaming PCs often feature advanced cooling systems and other customisations to improve their performance and durability under heavy use. You can purchase a pre-built spec or customize one to suit your needs, budget and preferences as a gamer.
What makes a good gaming PC?
A good gaming computer can handle the performance demands of today's biggest games without performance issues such as lagging or freezing. Several factors make a good gaming computer.
Graphics Card
A powerful graphics card is a crucial component of a good gaming computer, enabling smooth gameplay and high-quality graphics. The graphics processing unit (GPU) performs fast calculations to render images and animations quickly, freeing up space on the system for other essential tasks. It is the most critical part of a gaming system since it generates the images and scenes you see on screen, making gameplay happen.
NVIDIA GeForce RTX™, AMD Radeon RX, and Intel ARC graphics cards are used in our gaming systems. All types offer high-quality graphics and fast processing speeds but have different features and capabilities. The choice between the three largely depends on personal preference, budget, and performance needs.
NVIDIA GeForce RTX™ cards are recognised for their ray tracing technology, enabling more realistic lighting and shadow effects in games. They also provide advanced AI capabilities and DLSS technology to enhance gaming performance. AMD Radeon RX cards offer similar cutting-edge features. Intel's ARC graphics cards are new to the market and offer mid range performance at a compelling price point. Whichever graphics card you end up choosing for your CyberPowerPC, you can rest assured that you will be getting the stellar gaming experience you are looking for.
We provide a vast range of graphics cards in our PC configurators, including the GeForce RTX™ 40 series, GeForce RTX™ 30 series, GeForce GTX™ 16 series, AMD Radeon RX 6000 Series, AMD Radeon RX 7000 Series, and Intel ARC series graphics cards.
Processor
For a seamless gaming experience, a powerful and efficient processor, also known as a CPU, is crucial. It is responsible for processing data and instructions from the game and other applications. CPUs are specifically designed to process data at high speeds and thus require significant power to execute instructions and perform various tasks that enable gamers to play the most demanding games without disruptions.
The two main CPU brands are Intel and AMD. They both offer a wide range of processors with different specifications, such as clock speed, number of cores, and power consumption, to cater to different needs and budgets.
Intel CPUs have high clock speeds and single-core performance, which can lead to better gaming performance in certain situations. They are often considered the best choice for gaming at the very high end of the performance spectrum.
Alternatively, AMD Ryzen CPUs generally offer more cores and threads for multitasking and heavy workloads, which can result in better performance in tasks such as video editing, 3D rendering, and streaming. They are often seen as the best value-for-money option. They can offer comparable gaming performance at a lower price than Intel CPUs.
Ultimately, the decision between Intel and AMD CPUs for gaming relies on personal requirements and tastes, including the budget, the games played, and other PC tasks. That's why we have a variety of PC configurations with different CPUs, such as the Intel Core 11th, 12th, and 13th generation and the AMD Ryzen 5000 and 7000 Series.
RAM
RAM, short for Random Access Memory, is a critical component in any gaming PC as it allows quick data access—a higher amount of RAM results in better multitasking and faster loading times.
For gamers looking for optimal gaming performance, we recommend a capacity between 16-32GB. 32GB or more is recommended for those who need that much memory, such as designers or those who do a lot of multitasking.
Check out our DDR5 RAM range for the best memory available. DDR5 RAM is the newest generation of memory, offering faster speeds, increased bandwidth, and improved power efficiency than previous RAM generations. However, it may only be compatible with some systems or motherboards since it is still relatively new.
Before upgrading to DDR5 RAM, verifying your motherboard's compatibility is essential. Our PC configurator includes DDR5 RAM options from trusted brands like Corsair Vengeance and Kingston Fury. It will verify compatibility with your custom PC specifications, so no need to worry about what works with what - our configurator will take care of that for you.
Storage
Your computer's storage drive stores your games, files, and other data. You must have enough space to accommodate game data and other items, such as music and videos.
Although hard disk drives (HDDs) are popular among gamers because they offer more storage capacity for games, they lack start-up speed, especially when lengthy scenes take too long to load before gameplay. As games continue to advance, SSDs are becoming more the standard.
SSDs are a type of storage device that use flash memory chips instead of spinning disks, which makes them faster and more power-efficient. NVMe SSDs are even faster and more efficient than traditional SSDs, especially for gaming. They use a protocol called NVMe SSD (Non-Volatile Memory Express Solid State Drives) designed for solid-state storage, resulting in quicker data access and transfer speeds, lower latency, and better energy efficiency than hard disk drives SATA-based SSDs.
Despite their advantages over HDDs, some gamers prefer to use an SSD and HDD combination to take full advantage of the fast speed of an SSD and the large capacity of an HDD. Store your library on the hard drive, then when you are ready to play a game you can transfer it over to the SSD and enjoy the quicker load times.
Our PC configurator offers all these options from renowned brands such as Western Digital Black and Western Digital Blue, Intel, Samsung, ADATA, Kingston, Seagate, and SolidGM.
Cooling
Gaming computers generate heat, so good cooling is essential to prevent damage and maintain performance. There are several cooling solutions for gaming computers, including:
Air cooling is the most common cooling for gaming PCs. It involves using fans and heat sinks to dissipate heat from the CPU and other components. Air cooling is inexpensive and easy to install, but you may need more intensive solutions for high-end gaming rigs.
Liquid cooling:
Liquid cooling uses a coolant to transfer heat away from components, making it more efficient than air cooling but also more expensive and complicated to set up. Consider our Hyper Liquid range for a high-end water-cooled PC built by our experts.
All-in-One (AIO): AIO cooling combines air and liquid cooling elements. It typically involves using a fluid cooling system for the CPU and a few other components while using air cooling for the rest of the system.
The cooling best for a gaming PC depends on several factors, including the size of the case, the components, and the user's budget and preferences.
Aesthetics
Sure it doesn't affect performance, but, the aesthetics of the PC itself is important for many games.. This has given rise to various computer cases designed explicitly for gaming, with features such as tempered glass panels, RGB lighting, and custom engraving designs.
Some gaming PCs even incorporate liquid cooling systems with radiant tubing and fluid, adding to the overall visual appeal of the system. Ultimately, the aesthetic design of a gaming computer is a matter of personal preference and can range from minimalist to flashy, depending on the gamer's style. Use our configurator to choose not only how your system will perform, but how it will look as well.
Get the Best Gaming PC with the balanced performance you want
Overall, a well-rounded gaming computer requires powerful hardware components capable of handling modern games, efficient cooling to prevent overheating, and sufficient storage space for games and other applications. Our team of experts are happy to assist you with building the perfect gaming PC for your budget.
CyberpowerPC's Approach
Our mission is to make PC gaming a part of every home in the world. Our PCs are designed and built by gamers, for gamers.
Custom Built PCs
Our team of expert assemblers has curated a range of pre-configured PC specs with different performance levels, features, preferences, and budgets in mind. These preconfigured options provide a quick and easy starting point but can be fully customized to suit individual needs. Whether you buy or customize the pre-configured spec, our PC builders will construct each gaming system from scratch to ensure the best possible performance and quality.
Our gaming PC range is categorized based on gaming needs, such as VR Ready, and gaming and streaming PCs. We also offer components like our Intel and AMD configurators, NVIDIA gaming PCs, Radeon Gaming PCs, AMD Avantage Desktops, Corsair iCUE-approved systems,. If you still need to decide which option to choose, check out our most award-winning gaming desktops or our current best sellers.
Prebuilt PCs
There is often confusion surrounding the term "Prebuilt PCs" within the gaming community; many will consider all prebuilt PCs made by a PC manufacturer, regardless of whether or not they are customisable. The alternative in the community is DIY PC builders who prefer to build their systems from scratch.
We use this term for our instant-ship selection of PCs. Our Prebuilt PCs are configured by our team of PC spec experts and utilize the same high-end components as our custom gaming PCs. The only difference is that they are already built and ready to ship to your door. These systems have free 2 Day delivery.
Our Prebuilt Gaming PC lineup includes desktops and laptops powered by Intel, AMD, and NVIDIA GeForce.
Additionally our Pre Built systems are available at retailers like Best Buy, Amazon, Newegg, Walmart, Sam's Club, Costco and more.
Built by Experts
Our team is highly experienced in building PCs for all types of gamers, regardless of skill level. Whether you are an entry-level PC gamer or a professional streamer, we are here to help you create your perfect gaming setup by providing the tools and knowledge necessary to elevate your gaming experience.
Our specialists are ready to assist you in building your dream gaming PC.
We're Gamers, Too
At our core, we're gamers like you and understand the importance of a seamless gaming experience. Our passion for gaming drives us to share our knowledge and expertise with anyone who needs it. Whether you're a beginner looking to enter the world of PC gaming or a seasoned pro seeking the latest upgrades for your gaming setup, we're here to help.
Warranty and Service
We stand behind the quality of our gaming PCs and offer a comprehensive warranty to our customers. With every gaming system purchase, you will receive our standard one year warranty/ This includes the replacement of parts due to manufacturer defect or damage during transit.
In addition to our standard warranty, our gaming systems include a 3 year free service plan, which includes labor and lifetime technical support with our tech experts.
Delivery
Custom Gaming PCs
Our team of experts will custom-build your gaming PC to order and perform rigorous quality testing before dispatch. We aim to have your PC on the way within 7-10 business days from the time you place your order, accounting for order processing and assembly times.
Prebuilt Gaming PCs
Order any of our prebuilt gaming PCs and enjoy free 2 day shipping that gets you in the game quick.
Finance Options
We understand that some customers may need more immediate means to purchase their desired gaming PC upfront. To make our systems more accessible, we offer a fantastic range of finance options with offers as low as 0% APR though Affirm. Affirm is a payment plan that allows you to make easy monthly payments over 6, 12, or 36 months.
Gaming Peripherals
Our collection of gaming peripherals has everything you need to enhance your gaming experience, including premium gaming keyboards, monitors, headsets, and must-have streaming decks. You can easily add these peripherals to your order using our PC configurator or buy them separately on our website gear store.
We take pride in working with the top names in the industry - with top-quality components and peripherals from leading brands built to last. When you shop with us, you can be sure you get to choose from the best PC accessories available.
FAQs
What is the difference between a Gaming PC and a regular PC?
A gaming PC is designed to provide optimal performance for video games. In contrast, a regular PC is intended for general computing tasks such as browsing the web, creating documents, and sending emails. Gaming PCs typically have higher-end components, such as a dedicated graphics card, a powerful processor, and a large amount of memory (RAM), to handle the demands of modern video games.
They also often have specialized cooling systems and higher-quality audio and visual components to provide a more immersive gaming experience. On the other hand, regular PCs are typically designed for primary everyday use. They may not have the same performance or components as a gaming PC.
How much does a Gaming PC cost?
The cost of a Gaming PC can vary widely depending on your chosen components and specifications. You can find Gaming PCs on the lower end of the price spectrum for around $500-$800, while high-end Gaming PCs with top-of-the-line components can cost upwards of $2,000 or more. Ultimately, the cost of a Gaming PC will depend on your personal preferences, performance desires, and budget.
What is a better Gaming PC or Console?
Conversely, consoles are generally more affordable and user-friendly, with more straightforward setup and maintenance. They often have popular exclusive titles and are optimized for gaming on television, making them a popular choice for those who prefer a more casual gaming experience.Overall, it depends on your individual needs and preferences. A gaming PC may be better if you want the best graphics, customizability, and a wider selection of games.
Is it cheaper to build or buy a Gaming PC?
It is true that building your own PC can sometimes save you money if the market is favorable for component prices. But there are several benefits to purchasing a prebuilt system. If you lack experience in building computers, there is a risk of making costly mistakes. Identifying the source of errors can be challenging, leading to wasted time and money. This issue is especially prevalent for those who are new to the process. It is also a matter of convenience. Our systems simply need to be set up and plugged in before enjoying, while building your own is a process that takes time.
Purchasing a prebuilt system eliminates these risks, as our PC specialist takes care of that for you. You can avoid the hassle of troubleshooting and deal with multiple warranties from various manufacturers. If something goes wrong, our team will handle the issue for you, providing peace of mind and saving you time and money in the long run. Overall, while building your PC may seem cheaper initially, the benefits of a prebuilt system often outweighs the costs.
Is 4K good for gaming?
4K resolution means four times as many pixels on the screen than a standard 1080p display, which translates into a greater demand on the graphics card and processor.
To play games at 4K resolution, you need a powerful graphics card that can handle the increased workload. Even with mid-tier graphics cards, you can achieve reasonable frame rates in some older AAA games. Still, for the best experience, the most powerful graphics cards are required for an enjoyable 4K gaming experience. High-end GPUs, such as the NVIDIA GeForce RTX 40 series or the AMD Radeon RX 7000 series GPUs, are designed specifically for high resolution gaming, like 4K, and can deliver smooth frame rates even on the most demanding games.
However, it's about more than just having a powerful graphics card. It would be best to have a high-end CPU, plenty of RAM, and a fast storage drive to ensure the system can handle the increased workload of 4K gaming. A high-end monitor that can display 4K resolution and supports a high refresh rate is also recommended to fully experience the increased detail and smoothness of 4K gaming.
Overall, gaming at 4K resolution is a demanding task that requires a high-end gaming PC with powerful components. If you're serious about 4K gaming, investing in the best hardware available is important to get the most enjoyable experience.