Gaming PCs
Daily Deal VR i7K
Windows 11 Home Intel® Core™ Processor i9-13900K AMD Radeon™ RX 7900 XTX 24GB Video 16GB (16GBx1) DDR5/6000MHz Memory ASUS PRIME Z790-P WIFI D5 DDR5 Motherboard 2TB Kingston SNV2S/2000G (PCIe Gen4) NVMe M.2 SSD
Est. ship date: 6/20/2023
Esports Essential Gaming PC
Windows 11 Home AMD Ryzen™ 5 5500 Processor AMD Radeon™ RX 6500 XT 4GB Graphics 16GB DDR4/3600MHz RAM GIGABYTE B550 UD AC ATX Motherboard 2TB Kingston SNV2S/2000G (PCIe Gen4) NVMe M.2 SSD
Est. ship date: 6/20/2023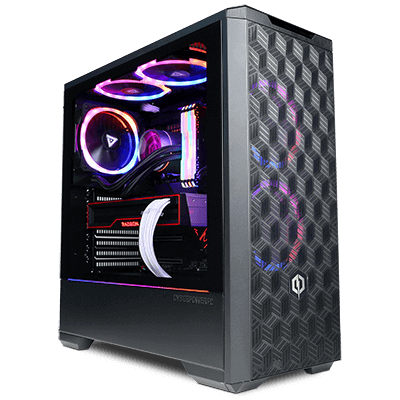 Xtreme 4060 Ti Gaming PC
Windows 11 Home Intel® Core™ Processor i7-13700KF GeForce RTX™ 4060 Ti 8GB GDDR6 Video Card 16GB (16GBx1) DDR5/6000MHz Memory ASUS PRIME Z790-P WIFI D5 DDR5 Motherboard 2TB Kingston SNV2S/2000G (PCIe Gen4) NVMe M.2 SSD
Est. ship date: 6/20/2023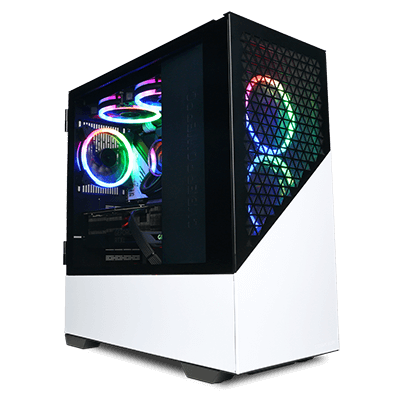 Ultra 4070 Gaming PC
Windows 11 Home AMD Ryzen™ 7 7800X3D Processor GeForce RTX™ 4070 12GB GDDR6X Video Card 16GB (16GBx1) DDR5/6000MHz Memory ASRock B650M-C AM5 Micro ATX Motherboard 2TB Kingston SNV2S/2000G (PCIe Gen4) NVMe M.2 SSD
Est. ship date: 6/20/2023

Creator PC Ultimate
Windows 11 Home Intel® Core™ Processor i9-13900K GeForce RTX™ 4090 24GB GDDR6X Video Card 32GB (16GBx2) DDR5/6000MHz Memory ASUS PRIME Z790-P WIFI D5 DDR5 Motherboard 2TB Kingston SNV2S/2000G (PCIe Gen4) NVMe M.2 SSD
Est. ship date: 6/20/2023
Gaming PC Infinity 8800 Pro SE
Windows 11 Home Intel® Core™ Processor i9-13900KF AMD Radeon™ RX 7900 XTX 24GB Video 32GB (16GBx2) DDR5/6000MHz Memory ASUS PRIME Z790-P WIFI D5 DDR5 Motherboard 2TB Kingston SNV2S/2000G (PCIe Gen4) NVMe M.2 SSD
Est. ship date: 6/20/2023
Syber M Pro 200
Windows 11 Home Intel® Core™ Processor i7-12700KF Intel® Arc™ A770 8G GDDR6 Video Card 16GB (16GBx1) DDR5/6000MHz Memory ASUS PRIME Z790-P WIFI D5 DDR5 Motherboard 2TB Kingston SNV2S/2000G (PCIe Gen4) NVMe M.2 SSD
Est. ship date: 6/20/2023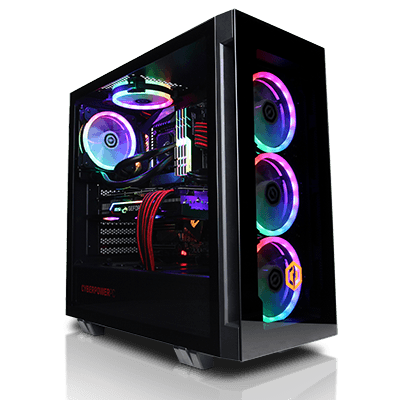 Infinity 8000 Gaming PC
Windows 11 Home Intel® Core™ Processor i7-12700K GeForce RTX™ 3050 8GB GDDR6 16GB (16GBx1) DDR5/6000MHz Memory ASUS PRIME Z790-P WIFI D5 DDR5 Motherboard 2TB Kingston SNV2S/2000G (PCIe Gen4) NVMe M.2 SSD
Est. ship date: 6/20/2023
Infinity 8800 Pro Gaming PC
Windows 11 Home Intel® Core™ Processor i9-13900KF GeForce RTX™ 4070 12GB GDDR6X Video Card 16GB (16GBx1) DDR5/6000MHz Memory ASUS PRIME Z790-P WIFI D5 DDR5 Motherboard 2TB Kingston SNV2S/2000G (PCIe Gen4) NVMe M.2 SSD
Est. ship date: 6/20/2023

CyberPower Z790 i9 Configurator
Windows 11 Home Intel® Core™ Processor i9-13900KF GeForce RTX™ 4070 Ti 12GB GDDR6X Video Card 32GB (16GBx2) DDR5/6000MHz Memory ASUS PRIME Z790-P WIFI D5 DDR5 Motherboard 2TB Kingston SNV2S/2000G (PCIe Gen4) NVMe M.2 SSD
Est. ship date: 6/20/2023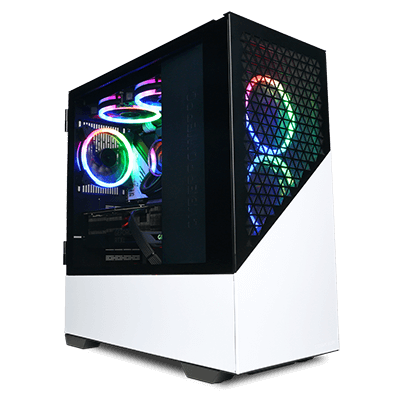 Dads and Grads RTX 4070 Ti
Windows 11 Home Intel® Core™ Processor i9-13900K GeForce RTX™ 4070 Ti 12GB GDDR6X Video Card 32GB (16GBx2) DDR5/6000MHz Memory 2TB Kingston SNV2S/2000G (PCIe Gen4) NVMe M.2 SSD ASUS PRIME Z790-P WIFI D5 DDR5 Motherboard
Est. ship date: 6/20/2023
Dads and Grads RTX 3060
Windows 11 Home Intel® Core™ Processor i5-12600KF GeForce RTX™ 3060 12GB GDDR6 16GB (16GBx1) DDR5/6000MHz Memory 2TB Kingston SNV2S/2000G (PCIe Gen4) NVMe M.2 SSD ASUS PRIME Z790-P WIFI D5 DDR5 Motherboard
Est. ship date: 6/20/2023
Dads and Grads Special I
Windows 11 Home Intel® Core™ Processor i5-13400F GeForce RTX™ 3050 8GB GDDR6 16GB (16GBx1) DDR5/6000MHz Memory ASUS PRIME Z790-P WIFI D5 DDR5 Motherboard 2TB Kingston SNV2S/2000G (PCIe Gen4) NVMe M.2 SSD
Est. ship date: 6/20/2023

Infinity XLC Gaming PC
Windows 11 Home Intel® Core™ Processor i9-13900K GeForce RTX™ 4070 Ti 12GB GDDR6X Video Card 16GB (16GBx1) DDR5/6000MHz Memory ASUS PRIME Z790-P WIFI D5 DDR5 Motherboard 1TB Kingston SNV2S/1000G PCIe Gen 4 SSD + 4TB HDD Combo
Est. ship date: 6/20/2023
Nothing Found.
Take your gaming PC setup to the next level with a CyberPowerPC. Our custom gaming pcs are purpose built to deliver extreme performance. Whether you are playing the latest games at maximum graphics, dominating your favorite competitive game, or unleashing your creativity - CyberPowerPC is here to deliver. Choose from a variety of configurations or customize your own dream gaming PC - designed with top quality components.
CyberpowerPC's Approach
Our mission is to make PC gaming a part of every home in the world. Our Gaming PCs are designed and built by gamers, for gamers. We hope our Gaming PC brings the joy of gaming to your life.
Custom Gaming PC Desktops and Prebuilt Gaming PCs - Built By Experts
Whether you opt to choose each individual component, stick with one of our preconfigured options, or go for a prebuilt system that ships quickly - you'll know you are getting a high quality gaming PC built by our experienced builders.
If you need help configuring a system or have any questions, our support specialists are ready to assist you with getting your dream gaming system built,
Financing Options
High performance gaming PCs can come with a hefty price tag. But don't fret, we have flexible payment options available. We offer financing options with offers as low as 0% APR though Affirm. Affirm is a payment plan that allows you to make easy monthly payments over 6, 12, or 36 months.
Shipping and Delivery Times
Our custom built gaming PCs will go through a rigorous quality test before we ship them to you. We strive to have your custom PC on the way within 7-10 business days from the time you place your order, which accounts for order processing and assembly times. In some cases delays may occur, such as during the busy holiday season. We will always notify our customers of the current planned shipping times.
Prebuilt systems enjoy free 2 day shipping that gets you in the game quickly.
Gaming Peripherals
Complete your CyberPower gaming setup with gaming peripherals from top brands. Add them on to your PC order or visit our online gear store for all of your gaming accessory needs.
Gaming PCs | Custom Gaming Desktops | CyberPowerPC FAQs
What is the difference between a Gaming PC and a regular PC?
A gaming PC is designed to provide optimal performance for video games. In contrast, a regular PC is intended for general computing tasks such as browsing the web, creating documents, and sending emails. Gaming PCs typically have higher-end components, such as a dedicated graphics card, a powerful processor, and a large amount of memory (RAM), to handle the demands of modern video games.
They also often have specialized cooling systems and higher-quality audio and visual components to provide a more immersive gaming experience. On the other hand, regular PCs are typically designed for primary everyday use. They may not have the same performance or components as a gaming PC.
How much does a Gaming PC cost?
The cost of a Gaming PC can vary widely depending on your chosen components and specifications. You can find Gaming PCs on the lower end of the price spectrum for around $500-$800, while high-end Gaming PCs with top-of-the-line components can cost upwards of $2,000 or more. Ultimately, the cost of a Gaming PC will depend on your personal preferences, performance desires, and budget.
What is a better Gaming PC or Console?
Conversely, consoles are generally more affordable and user-friendly, with more straightforward setup and maintenance. They often have popular exclusive titles and are optimized for gaming on television, making them a popular choice for those who prefer a more casual gaming experience. Overall, it depends on your individual needs and preferences. A gaming PC may be better if you want the best graphics, customizability, and a wider selection of games.
Is it cheaper to build or buy a Gaming PC?
It is true that building your own PC can sometimes save you money if the market is favorable for component prices. But there are several benefits to purchasing a prebuilt system. If you lack experience in building computers, there is a risk of making costly mistakes. Identifying the source of errors can be challenging, leading to wasted time and money. This issue is especially prevalent for those who are new to the process. It is also a matter of convenience. Our systems simply need to be set up and plugged in before enjoying, while building your own is a process that takes time.
Purchasing a prebuilt system eliminates these risks, as our PC specialist takes care of that for you. You can avoid the hassle of troubleshooting and deal with multiple warranties from various manufacturers. If something goes wrong, our team will handle the issue for you, providing peace of mind and saving you time and money in the long run. Overall, while building your PC may seem cheaper initially, the benefits of a prebuilt system often outweighs the costs.
Is a $1000 gaming PC worth it?
A $1000 budget allows you to get a CyberPower gaming PC with solid performance. For gaming PCs at this budget you can expect to get a powerful processor, a solid graphics card, and enough RAM to run your favorite games smoothly. For the most part you'll get the best performance at this price point running games at 1080p resolution and high graphics settings.