Tracer VII Gaming Laptops
Tracer VII Series Gaming Laptops for the Elite Mobile Gaming Experience
Next Generation Cooling, Ultrafast Performance Laptops
Tracer VII Series
Tracer VII Series laptops enhances gaming experiences with cutting-edge graphics, high resolution displays, and next generation cooling solutions. These laptops are built with artists, gamers, and streamers in mind. I17E LC & I16G LC models can take advantage of the 2nd generation external liquid cooling dock, so you will always game or work with the best in mobile performance.
2nd Generation
Liquid Cooling Laptop
External Portable Cooling Chassis
Tracer VII laptops harness the power of our new and improved 2nd Generation External Liquid Cooling Dock. Stay cool wherever your Tracer VII goes while you unleash top level portable gaming performance powered by Windows 11, Intel Core 13th Generation processors, and NVIDIA GeForce RTX 40 Series graphics.

**Liquid Cooling available only for Tracer VII Edge I17ELC & Tracer VII Gaming I16GLC Models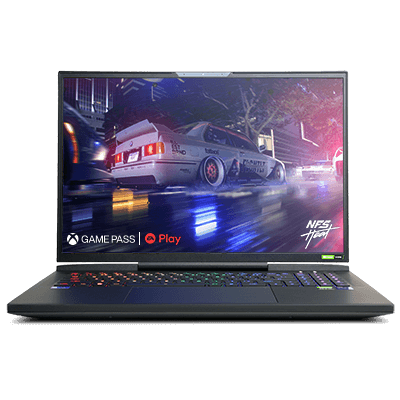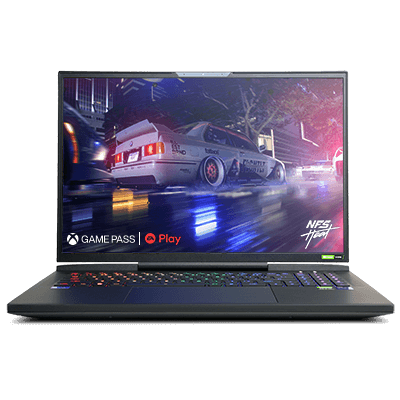 Choose Your Style
Tracer VII Models
Tracer VII Edge
Slim & Powerful
Experience portability and top-notch performance that can be used for work, play or creativity. Power through heavy tasks on the go with this lightweight chassis, for the ultimate portable experience. Comes with a built in mechanical keyboard for a more premium feel when typing.
Tracer VII Gaming
Maximum Performance
Take the enjoyment of high performance gaming on the go. The combination of cutting-edge graphics and portability, is perfect to play your favorite games anytime, anywhere. Available in liquid cooling (I16G LC) or fan cooling configurations.
Equipped with Cutting-Edge Graphics and Portability.
NVIDIA® GeForce RTX™ 40 Series
Beyond Fast
NVIDIA® GeForce RTX™ 40 Series GPUs are beyond fast for gamers and creators. They're powered by the ultra-efficient NVIDIA Ada Lovelace architecture which delivers a quantum leap in both performance and AI-powered graphics. Experience lifelike virtual worlds with ray tracing and ultra-high FPS gaming with the lowest latency. Discover revolutionary new ways to create and unprecedented workflow acceleration.
Processor
13th Gen Intel® Core™ mobile processors.
Designed for the needs of today's gamers.

Performance-cores
Unleashes the capability to optimize the latest games and gaming software.

Efficient-cores
Provides multitasking power to work, play,and most importantly game together.
Intel Core i5 Processors
Versatile performance for immersive gaming.
Up to 4.8 GHz Max Clock Speed5
14 Cores /20 Threads
Intel Core i7 Processors
Game, stream and record without interruption.
Up to 5.3 GHz Max Clock Speed5
20 Cores /28 Threads
Intel Core i9 Processors
Peak performance for elite gaming and content creation.
Up to 6 GHz Max Clock Speed5
Cores /32 Threads
Cooling
Liquid Cooling Dock
This external portable cooling chassis is an optional accessory that can cool your laptop but still staying quiet. This small design makes it a stealth cooling option for Tracer VII laptops when under heavy load. Freely attach and detach this dock quickly with ease whenever you need it.

*Cooling option only available for Tracer VII Edge I17LC & Tracer VII Gaming I16GLC Models

*External Liquid Cooling Dock not included, available during configuration as optional accessory.
2-Way Water Stop
Detachable Mag-Valve
Setting up the Liquid Cooling Dock is easy, even if you've never used an external liquid cooler before. Connected directly into the back of the Tracer VII, the 2nd Gen Liquid Cooling activates by magnets. Removing the connector will automatically trigger the valve to close and prevent leakage.
Support & Maintenance
Easy Disassemble and Cleaning
With long term use, dust will gradually effect the efficiency of the dissipation. With only 4 screws, its easy to access the inside of the case for any cleaning or maintenance. Giving the device a much longer life span, with it being easy to fix or clean.
RGB Portable Design
Slim, Lightweight and RGB Lighting
The 2nd Gen Liquid Cooling Dock, has a slim and portable design that makes it easy to use and features an RGB fan to match your laptops lighting.
Display
Immerse Yourself
At 2560x1600 you get amazing resolution from a 16" or 17" screen and with up to 240Hz refresh rate, that gives you the advantage for competitive gaming. It's a fact that Refresh Rates and Resolution are key to winning in games these days and this laptop is the perfect option.


*Display resolution and refresh rate varies by model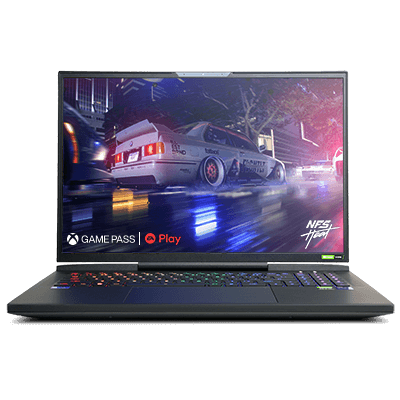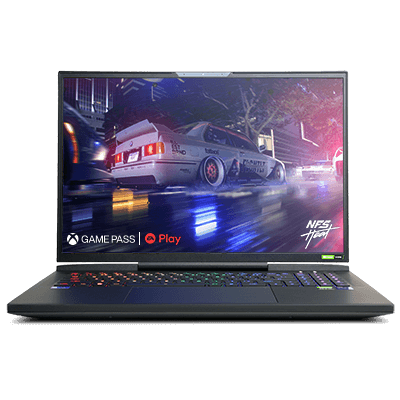 CyberPowerPC Tracer VII Laptops are the latest in our line of high performance gaming laptops. Tracer VII gaming laptops feature the best in laptop components with industry leaders NVIDIA GeForce and Intel. Choose from two different models of Tracer VII gaming laptops, each with different performance levels to meet your laptop gaming needs. From slim portability, to all out power with laptop watercooling, there is a Tracer VII laptop model for everybody. Experience the best in mobile gaming with CyberPower laptops.
Tracer VII Gaming Laptops for mobile gaming | CyberPowerPC FAQs
Are CyberPower laptops good?
CyberPowerPC laptops are among the best on the market and built in the same factory as those of other major brands such as Razer and Maingear so you can trust that they are high quality and high performance.
Is liquid cooling possible for laptops?
The CyberPowerPC Tracer VII series is the only liquid cooled gaming laptop on the market today in North America. Not only is it liquid cooled but has the option of operating with or with out the external liquzzzid reservoir.
Which laptop is best for gaming?
When it comes to choosing a laptop for performance any of our 17" gaming laptops which feature both an Intel Core i9 processor and GeForce RTX 4090 are your best bet.