Our Mission
To make PC gaming a part of every home in the world.
Champions For Champions
Many of us here at CyberpowerPC are gamers through and through down to our very soul. We want to give to you what we would want for ourselves. In this way you can say we are championing the future gaming champion in you.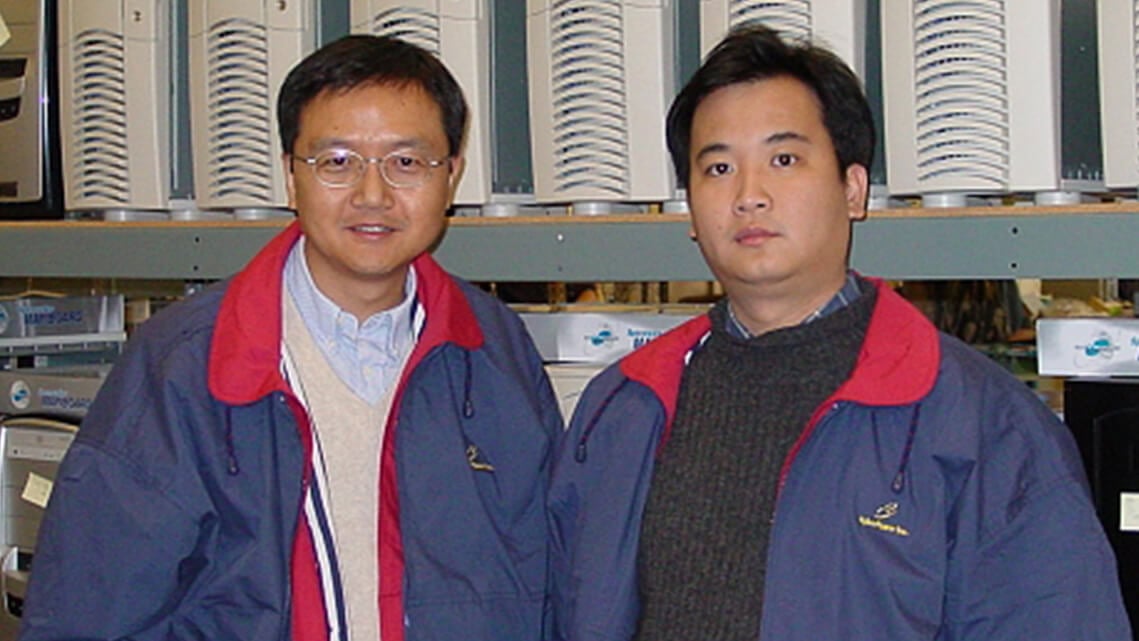 Where It All Started
Back in 1998
PC gaming was just getting started.
In 1998, two friends Eric Cheung and Stanley Ho started a new company with the idea of creating truely customized PCs specifically for gamers. The computer world was going through a huge renissance period that started a few years earlier with the launch of Windows 95, but one of the biggest impact of the time was the integration of Internet Explorer into Windows 98 and the incorpration Google that same year. From there on computer technologies began advancing at a tremendous rate and one of the biggest drivers of that was the PC gaming industry. Even now PC gaming computers still are considered the benchmark for what is considered the highest performance achievable in a consumer PC. The Brand
The Story Of The Brand
Over 20 Years In The Making
The CyberPowerPC brand has been around for over 20 years now and for 18 years we stood proud with our original logo that had for so long withstood the test of time. It wasn't until 2016 that we finally decided it was time to create something that was more modern and reflected who we are today and what we want to be in the future. The modern CyberPowerPC logo pay homage to the original "C & P" letter which are subtly integrated into the icon and lightening bolt personifies the "power" in our brand and products. The power to win with lightening fast performance wrapped in a solid, reliable, impenetrable hexagon carbon structure.
A BRIEF TIMELINE
MAJOR HISTORICAL POINTS
1999
CyberPowerPC's growth was so tremendous that we moved to a new office with a warehouse capacity of 14,000 square feet.
2000
Became offical partners with Microsoft, Intel, AMD, NVIDIA and many more major vendors.
2008
Entered retail with partnership for online at Bestbuy, Amazon, Walmart, Newegg and Costco.
2012
We moved again to new 120,000 sq. ft. warehouse facility with 200+ employees which remains now our offical North American Headquarters.
2014
CyberPowerPC became the #1 OEM in US with over 100,000 Microsoft Windows sold and we would break that again in 2015.
2015
CyberPowerPC entered the brick and mortar retail market with its first in store gaming PCs at BestBuy.
2016
CyberPowerPC is selected to represent the Amazon's Choice SKU for Gaming Desktop PCs and our new brand identity is introduced to the world.
2017
CyberPowerPC begins to expand its retail presence to over 100 top online and offline retailers including Costco and the Microsoft Store.
2018
CyberPowerPC wins Intel's Partner of the Year award for the Enthusiast Gaming category.
2019
CyberPowerPC becomes the only non Multinational Corporation to break the top 10 in units sold for desktop and took the spot for 5 of the top 10 gaming desktops sold according to 2019's NPD report.
2021
CyberPowerPC breaks records when it reaches over half a billion dollars in sales revenue for the year.
Our Process
How we build your best gaming PC.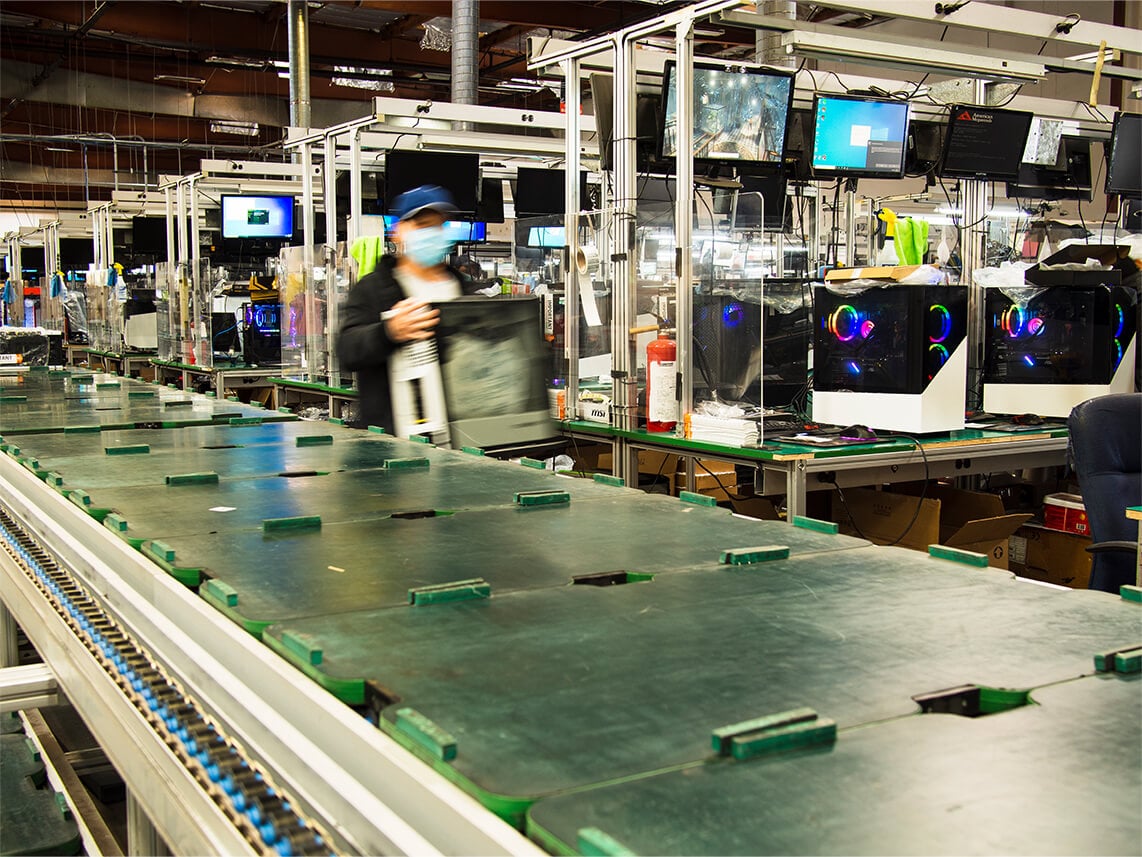 From Start To Finish
Over 5k Fully Custom PCs Daily
It's why we are still #1
The process starting with your order until it is in your hands is actually a very long journey with tremendeous levels of detail. It start with our webiste where we offer one of the most diverse selection of components from which you can choose from. Having this kind of diversity is not an easy task, every combination of hardware from motherboards to ram and graphics cards, must be tested in our R&D lab to ensure not just compatibility but optimal performance. Once your system is configured and ordered, your parts are picked for assembly. Our skilled team builds each computer from beginning to end by the same person so they take complete responsibility over it. Once it's fully built, it must under go a 24 hour burn in stress test to ensure that it's not only stable but also performing within an optimal range. Only after this rigorous process is it packed up and shipped to you.
Call All Stores
Shipping Nationwide
To every major retailers.
CyberPowerPC gaming computers can be found at nearly every major online and store front retailer that sells gaming PCs across most of North America which includes both the US and Canada.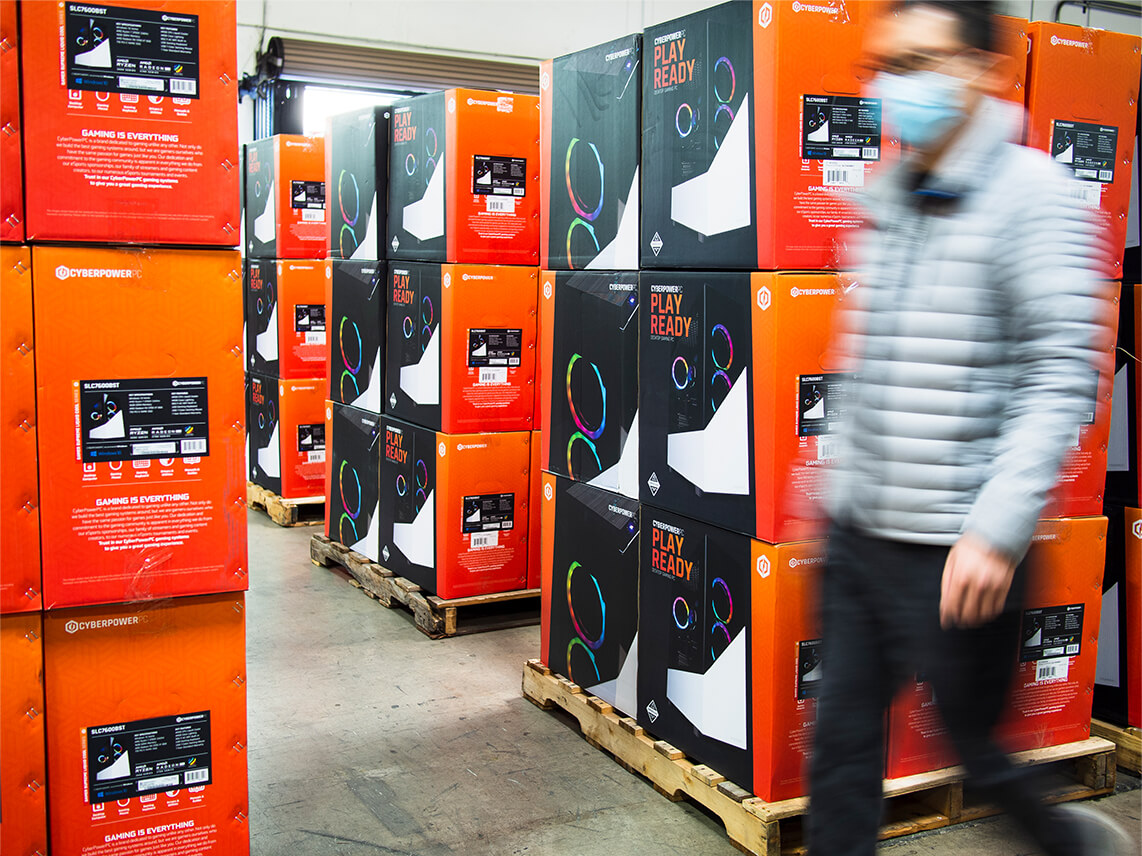 Our Commitment
We are commited to growing the gaming industry.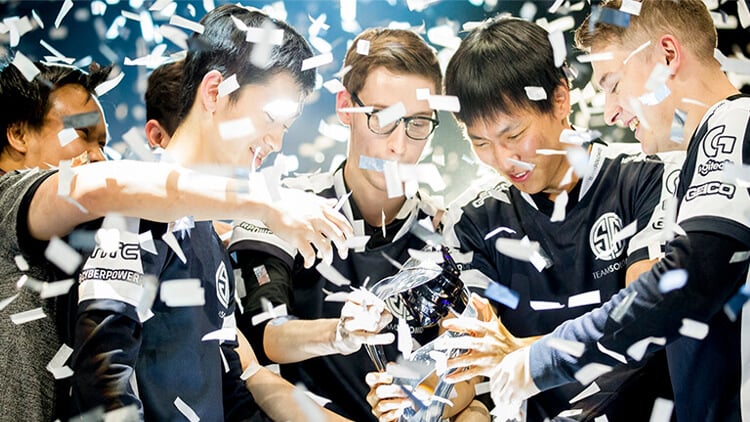 Esports & Influencers
Top Teams and Gamers Choose CyberPowerPC
eSports is a booming industry, and CyberPowerPC is the one of the leading brands in the gaming world. We have a strong presence in the eSports community, sponsoring some of the top teams and players in the world. We are also involved in the Twitch streamer community, partnering with influencers to provide the best gaming experience for their viewers. Whether you're casual gamer or a professional player, we have everything you need to get the most out of your gaming experience.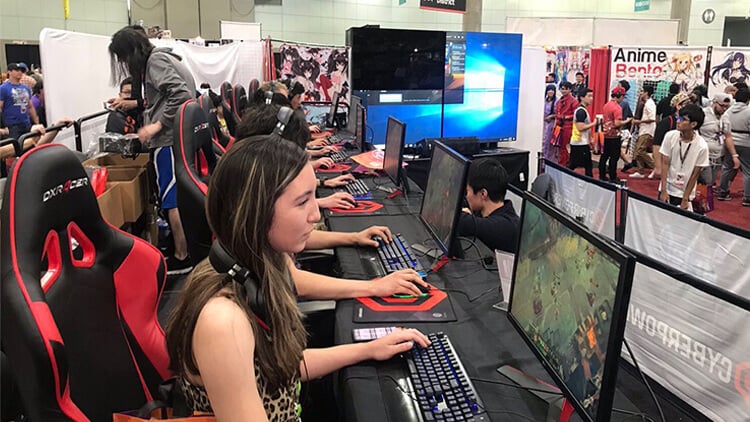 Gaming Events
Find Us At Some Of Today's Top Gaming Events
CyberPowerPC has been a major force in eSports for years, sponsoring some of the biggest events in the gaming calendar. This year was no different, we partnered up with Twitch and YouTube influencers to bring the action to millions of viewers around the world. We also had a presence at major gaming events such as Anime Expo, PAX East & West, CES, Twitchcon, and Gamescom, showcasing its latest hardware and accessories to the gaming community.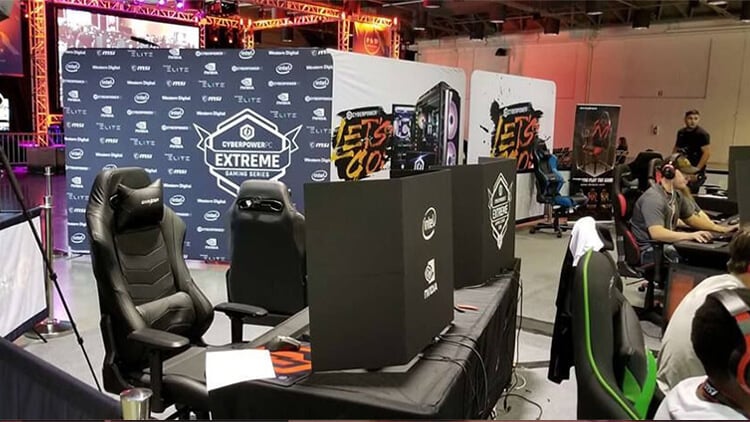 Tournaments
Operating Some Of The Biggest Esports Tournaments
eSports are a growing phenomenon, with millions of people around the world tuning in to watch their favorite gamers compete. As a leading manufacturers of gaming PCs we have been involved in some of the biggest tournaments in the eSports scene. From sponsoring teams to providing prize money, we helped to make eSports more popular than ever before. And with our latest line of gaming PCs, we are looking to take things to the new level.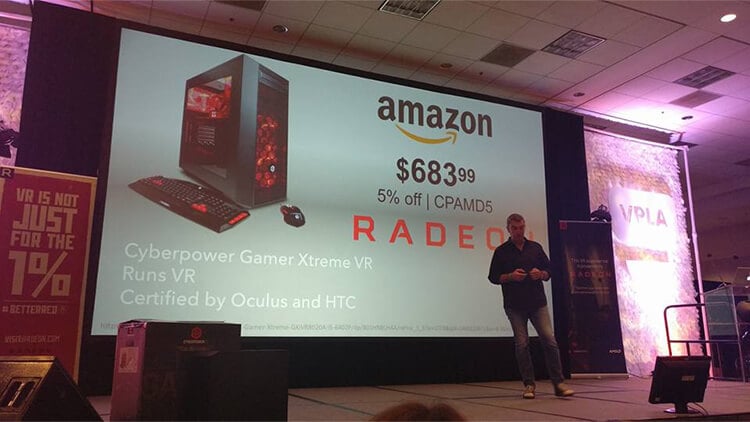 Manufacturers & Developers
Working With The Source To Improving Gaming
CyberPowerPC is one of the top manufacturers of gaming PCs, and they work closely with some of the biggest names in the business to ensure their products are always at the cutting edge. Intel, AMD, and NVIDIA all provide components for our gaming systems, and we have also forged close ties with Microsoft to ensure their products are compatible with the latest gaming titles. In addition, we frequently collaborate with game developers to help optimize their products for gaming. As a result, we are able to offer some of the most powerful and technologically advanced gaming PCs on the market.
Sustainability and Ethics
CyberPowerPC has always been committed to doing our part in reducing waste, leading green initiatives and social awareness.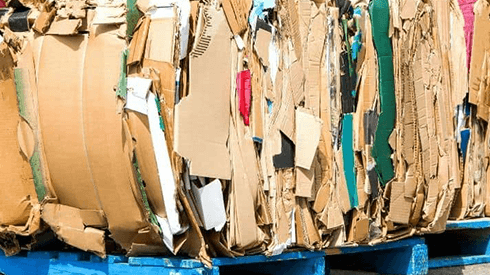 Sustainabiltiy, Waste Reduction & Recycling
Doing our part to help the future.
We are committed to reducing its environmental impact, and that starts with reducing waste. One way the company does this is by meeting working with local waste disposal services recycling program. This program helps to recycle Styrofoam, bubble wrap, and other packaging materials so that they don't end up in landfills. We also participates in Amazon's Climate Pledge, which is a commitment to be net-zero carbon by 2040. As part of this pledge, we are working to decrease our use of excess packing materials and ensuring our packaging is both sturdy but efficient. Thanks to these initiatives, CyberPowerPC is helping to make a difference for the environment. Consumers in California: Please visit https://calrecycle.ca.gov/Electronics/ for more information.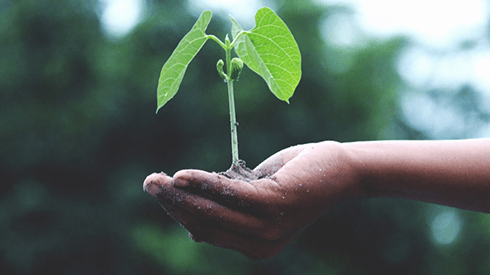 Eco Green Initiatives & Emissions Control
We were the first and still the best.
Located in the heart of Southern California, CyberPowerPC was among the first national computer manufacturers to fully meet the California energy commissions CEC guidance and requirements, making us a leader in eco-friendly and green initiatives. We are committed to reducing our emissions and conserving energy and resources. Our state-of-the-art facilities utilize the latest in green technologies, including solar power, motion sensor lighting, and more. In addition, we look to invested in electric Vehicle charging stations for our employees. We are proud to be a part of the solution in combating climate change.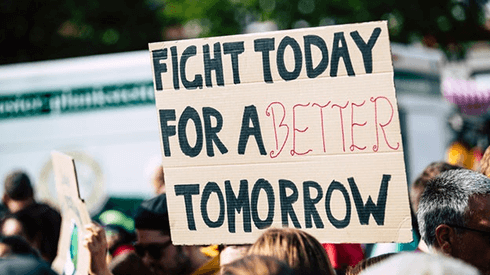 Social Awarness & Ethical Causes
We don't shy from doing what is right.
CyberPowerPC is committed to social awareness and supporting ethical causes. We believe in equal rights for all, regardless of sexual orientation, gender identity, race, or religion. That's why we are proud supporters of LGBTQ+ organizations like the ACLU. We also believe that everyone deserves access to education and opportunities to succeed. That's why we donate computers to under served communities so that they can have the same chance to learn and grow as everyone else. By supporting these causes, we are working to make the world a better place for everyone. Thank you for being part of our community and helping us make a difference.
Recycling
Mail-Back Program
Missouri, New Jersey, Oklahoma, Rhode Island, Virginia, West Virginia:
For customers in the state of Missouri, New Jersey, Oklahoma, Rhode Island, Virginia, West Virginia who would like to recycle their used CyberPowerPC computer(s) and Syber Vapor, please contact us directly at 1-800-707-0393 x1117 or email ewaste@CyberPowerPC.com to obtain a free shipping label and instructions on how to return the equipment for recycling. With the free prepaid return shipping label, customers can drop-off the package at carrier's location. Please contact us if you do not have a UPS drop off near you.
Hawaii, Missouri, Indiana, Illinois, Minnesota, North Carolina, Pennsylvania, Wisconsin, West Virginia, Michigan, Texas:
Please visit http://www.oemrecyclingsolutions.com/
Maryland:
Consumer data destruction - please click here for free downloadable program that can clean data from your hard drive.. Or for free recycling and mail back program, please visit www.oemrecyclingsolutions.com/
Virginia:
Please visit https://www.cyberpowerpc.com/company/Virginia-2020-L.pdf for more information.
New York:
For customers in the state of New York, we will accept our company branded products and one piece of electronic waste of any manufacturer's brand with the purchase of covered electronic equipment of the same type by a consumer.
We provide a free mail back program to consumers in New York. Consumer is define as "a person located in the state who owns or uses covered electronic equipment, including but not limited to an individual, a business, corporation, limited partnership, not-for-profit corporation, the state, a public corporation, public school, school district, private or parochial school or board of cooperative educational services or governmental entity, but does not include an entity involved in a wholesale transaction between a distributor and retailer." We also accept covered electronic equipment waste from large business consumers, but a fee may be charged for recycling and collection.
For more information regarding the New York E-Waste law, please go to: https://www.dec.ny.gov/chemical/65583.html
CyberPowerPC has partnered with DNA Group and will be providing mailback program, permanent drop off locations which can be found at www.oemrecyclingsolutions.com/.
Security
Consumer Data Destruction
Tips for taking care of your data security when recycling.
Consumers are responsible to properly remove all data stored on the computer hard drive before returning the product for recycling. We are not responsible for any data that remains on the returned computer. You can purchase "Data wiping software" from local retailers to remove the data. Online software such as Darik's Boot and Nuke and Active@KillDisk are free, downloadable programs that can clean data from your hard drive. Please contact us at 1-800-707-0393 x1117 or email ewaste@CyberPowerPC.com for recycling information.