Tracer VI Series Gaming Laptops for the Best Mobile Gaming Experience
Innovative Cooling, High Performance Laptops
Tracer VI Series
STARTING $999
Tracer VI laptops feature the best in laptop components with the leaders in the industry, with Nvidia and Intel. Choose your style with three different versions of Tracer VI laptops to meet your needs. Whether its to be slim and portable, slim and powerful, or elite performance, there is an option for you. With our new external liquid cooling optional device, you will always game or work with the best in mobile performance.
Optional Cooling
Liquid Cooling Dock
External Portable Cooling Chassis
An external liquid cooling dock option to maximize your laptops cooling. Only available for Tracer VI Edge Pro I15XLC & Tracer VI Gaming I17GLC Models.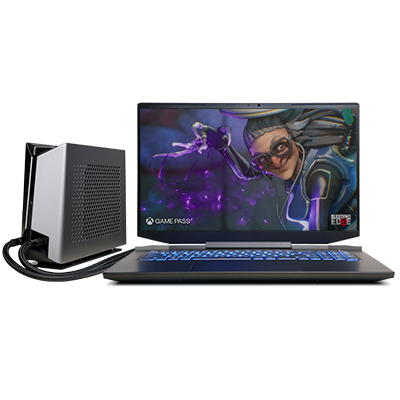 Tracer VI Gaming I17GLC 600
Windows 11 Home Intel® Core™ Processor i9-12900HK NVIDIA® GeForce RTX™ 3080 Ti 12GB GDDR6 TRACER VI GAMING I17GLC 17.3" IDM DDR5 3080 Ti I9-12900HK AX201 MEMB RGB KB 330W QHD 165HZ 4 CELLS (NB-409-205) 32GB DDR5/4800MHz RAM Intel Alder Lake PCH
Choose Your Style
Tracer VI Models
Tracer VI Edge
Slim & Portable
Your desk is wherever you go. Slim and portable, the Tracer VI Edge is packed with the performance you need to take your work, play, and creativity to the next level. With a sleek lightweight aluminum chassis, the Tracer VI Edge is the ultimate portable experience.
Tracer VI Edge Pro
Slim & Powerful
Experience the same great portability as the Tracer VI Edge, enhanced with the pro level features. Power through your tasks and entertainment with more processing power and a premium feel mechanical keyboard.
Tracer VI Gaming
Elite Performance
Take the thrill of gaming on the go. Experience crisp graphics and high framerates in your favorite gaming experiences, anytime and anywhere.
Equipped with the best in graphics and processing performance.
NVIDIA® GeForce RTXTM 30 Series
The Ultimate Play
GeForce RTX™ 30 Series GPUs deliver the ultimate performance for gamers and creators. They're powered by Ampere—NVIDIA's 2nd gen RTX architecture—with new RT Cores, Tensor Cores, and streaming multiprocessors for the most realistic ray-traced graphics and cutting-edge AI features.
12th Gen Intel® Core™ Mobile Processors
Unleash the Future of Performance
12th Gen Intel® Core™ mobile processors redefine multi-core architecture for laptop PCs with an all-new performance hybrid architecture and the revolutionary HX series. Built on the new Intel 7 process, this design breakthrough brings together two types of specialized cores to deliver state-of-the-art performance and responsiveness. The latest platform technologies, like DDR5 memory support, Thunderbolt™ 4 connectivity and Intel® Wi-Fi 6E (Gig+), elevate your experience even further. Whether you're a casual multi-tasker, an elite gamer or an imaginative creator, 12th Gen Intel® Core™ mobile processors excel in the areas that matter most.
Ready for what's next
Support for DDR5 enables next-level speed and performance.
Set up, anywhere
Easily connect to peripherals and multiple 4K monitors with support for Thunderbolt™ 4 technology.
Competition-ready wireless
Support for Intel® Killer™ Wi-Fi 6/6e technology for gaming with less lag and latency.
Cooling
Liquid Cooling Dock
Power Your Victory
This external portable cooling chassis is an optional accessory that can cool your laptop but still staying quiet. This small design makes it a stealth cooling option for Tracer VI laptops when under heavy load. Freely attach and detach this dock quickly with ease whenever you need it.


*Cooling option only available for Tracer VI Edge Pro I15XLC & Tracer VI Gaming I17GLC Models.


*External Liquid Cooling Dock not included, available during configuration as optional accessory.
Easy To Use
Quick-Release Connection
Setting up the Liquid Cooling Dock is easy, even if you've never used an external liquid cooler before. Connected directly into the back of the Tracer VI, its self-sealing and quick-release capabilities makes it easy to connect and disconnect if you want to use the laptop without it. Connection via bluetooth is used to connect the two devices to control the pump, fan, and RGB lighting. It is powered by connecting to the laptops power supply, without compromising any other I/O ports.
Game In Silence
Greatly Reduced Noise
The Liquid Cooling Dock allows the Tracer VI laptop to stay quiet even when under load. Helping the laptop reduce the speed of its fans, letting you continue to game or render, without having to deal with loud fans or effected performance.
Compact Cooling Chassis
Slim, Lightweight and Portable
The Liquid Cooling Dock is small and compact. Keeping your Tracer VI laptop quiet and cool without taking up desk space and making it easy to take with you on the go. The unit will include a radiator, fan, pump and resevoir.
Emmerse Yourself
ULTRA SHARP DISPLAY
At 2560x1440 you get amazing resolution from a 15' screen and with up to 165Hz refresh rate, it is comparable if not better than most high end desktop displays. It's a fact that Refresh Rates and Resolution are key to winning in games these days and this laptop is made just for that.



*Display resolution and refresh rate varies by model.
CyberPowerPC Tracer VI Laptops are the latest in our line of high performance gaming laptops. Tracer VI gaming laptops feature the best in laptop components with industry leaders NVIDIA GeForce and Intel. Choose from three different models of Tracer VI gaming laptops, each with different performance levels to meet your laptop gaming needs. From slim portability, to all out power with laptop watercooling, there is a Tracer VI laptop model for everybody. Experience the best in mobile gaming with CyberPower laptops.
Tracer VI Gaming Laptops for mobile gaming | CyberPowerPC FAQs
Are CyberPower laptops good?
CyberPowerPC laptops are among the best on the market and built in the same factory as those of other major brands such as Razer and Maingear so you can trust that they are high quality and high performance.
Is liquid cooling possible for laptops?
The CyberPowerPC Tracer VI series is the only liquid cooled gaming laptop on the market today in North America. Not only is it liquid cooled but has the option of operating with or without the external liquid reservoir.
Which laptop is best for gaming?
When it comes to choosing a laptop for performance any of our 17" gaming laptops which feature both an Intel Core i9 processor and GeForce RTX 3080 are your best bet.