AMD Esports Gaming PCs - for Gaming Pros | CyberPowerPC
AMD Esports Gaming PCs - for Gaming Pros | CyberPowerPC
Performance to Win
AMD Ryzen & Radeon Processors
Powering today's professional gamers.
AMD Ryzen™ 5000 series processors and AMD Radeon™ RX 6000 series graphics cards deliver the performance edge to win in top esports games, taking performance issues off the table to put complete focus on the game itself.

Shop
Supporting Pro Gamers for 20 Years
Taking eSports to a new level with AMD Ryzen & Radeon
Buddha
Twitch GTA RP Streamer
Buddha is known to be the most viewed and subbed roleplay streamer on Twitch. He is best known for his Roleplay character Lang Buddha, a character he has played since the ARMA server and has continued playing in the State of Emergency and The Family Roleplay servers. Lang has gone through many changes over the years.
https://www.twitch.tv/buddha/
Bluddshed
Twitch Diablo Streamer
Bluddshed is the go to guy when it comes to anything and everything Diablo. Whether it is information on the best gear, character builds or hardcore playthroughs, Bluddshed is there to help make your Nephalem as powerful as possible.
https://www.twitch.tv/bluddshed/
DasMehdi
Facebook Variety Streamer
DASMEHDI is a full-time variety streamer known for his entertaining creativity. Introduced to Twitch in 2012, he left his career in the software startup industry to pursue his hobby in entertainment full-time! Since then DASMEHDI has entertained viewers across a variety of games, from Action Adventure to the Survival and especially in GTA on the popular roleplaying server NoPixel.
https://www.facebook.com/dasMEHDI/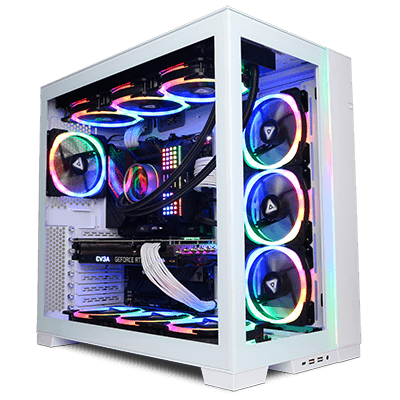 DASMEHDI 100
Windows 11 Home AMD Ryzen™ 9 7950X3D Processor GeForce RTX™ 4090 24GB GDDR6X Video Card 32GB (16GBx2) DDR5/6000MHz Memory MSI PRO B650-VC WIFI AM5 ATX Motherboard 2TB ADATA LEGEND 800 GOLD Series (PCIe Gen4) NVMe M.2 SSD
Est. ship date: 1/19/2024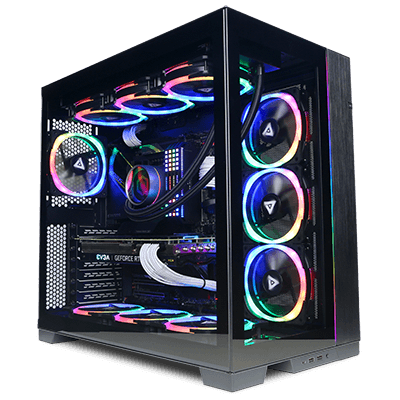 BLUDDSHED 100
Windows 11 Home AMD Ryzen™ 7 7800X3D Processor GeForce RTX™ 4070 Ti 12GB GDDR6X Video Card 16GB (16GBx1) DDR5/6000MHz Memory MSI PRO B650-VC WIFI AM5 ATX Motherboard 2TB ADATA LEGEND 800 GOLD Series (PCIe Gen4) NVMe M.2 SSD
Est. ship date: 1/19/2024
Why Pros Choose CyberPowerPC
For eSports, Streaming & Content Creation
Having supported pro gamers for over 20 years, we've learned quite a bit about what professional gamers need when it comes to buying a computer when it's for both work and play. Pro gamers need something that is powerful enough to handle any game you through at it. From CyberPunk 2077 at 4K and max settings to Valorant at 300+ FPS, they need a computer that always exceeds expectations. As a workhorse they need a computer that will be dependable and last. That's why each CyberPowerPC system we've built for our top Pros is custom tailored to their unique needs. For teams like TSM, it has to give them a competitive advantage, and that means the highest FPS, the sharpest graphics and perfect sound. For variety streamers like Lirik or Summit1G it's all about playing any game to it's maximum potential and stability to ensure 8 to 10 hours of uninterrupted streams. Whatever your needs are CyberPowerPC has a solution made just for you.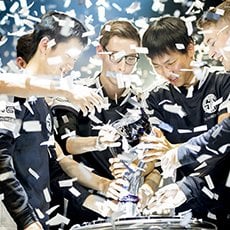 Esports Teams
We've worked with some of the top franchises including TSM, Evil Geniuses, NRG, Team Coast, Complexity and more.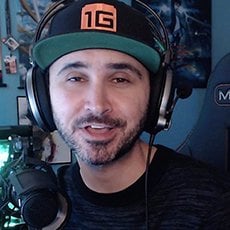 Streamers
We've worked with top streamers including Lirik, Summit1G, Timthetatman, Imaqtpie, Trick2G, Buddha, AnthonyZ, and many more.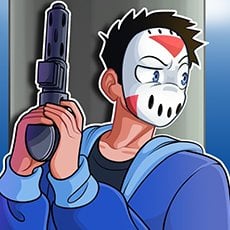 Content Creators
We've worked with some of the biggest YouTubers including H2ODelirious, Moo Snuckel, Sykkuno, and many more.
Buddha's Personal Build
Key Specifications
OS: Windows 11 Home
Case: Black Lian Li O11 Dynamic ATX Mid Tower Gaming
CPU: AMD Ryzen 9 5950X
Motherboard: ASROCK X570 Phantom Gaming 4 WiFi
RAM Memory: 64GB (16GBx4) DDR4/3200MHz
GPU: NVIDIA GeForce RTX 3080
PSU: Thermaltake Tough RGB 1200W
Storage: 1TB WD Black SN750SE PCIe Gen 4 SSD + 4TB HDD
Liquid Cooling: CyberpowerPC MasterLiquid Lite 360mm ARGB CPU Liquid Cooler
Bluddshed's Personal Build
Key Specifications
OS: Windows 11 Home
Case: Bluddshed x Black Lian Li 011
CPU: AMD Ryzen 7 5800X
Motherboard: ASROCK X570 Phantom Gaming 4 WiFi
RAM Memory: 16GB (8GBx2) DDR4/3600MHz
GPU: NVIDIA GeForce RTX 3070
PSU: 800W Power Supply
Storage: 500GB MSI M390 SERIES PCIe NVMe + Seagate 2TB HDD
Liquid Cooling: CyberPowerPC DEEPCOOL Castle 240EX ARGB 240mm Liquid Cooler
DasMehdi's Personal Build
Key Specifications
OS: Windows 11 Home
Case: Lian Li PC 011
CPU: AMD Ryzen 9 5900X
Motherboard: ASROCK X570 Phantom Gaming 4 WiFi
RAM Memory: 32GB (8GBx4) DDR4/3600MHz
GPU: NVIDIA GeForce RTX 3080
PSU: 1000W Power Supply
Storage: 500GB MSI M390 SERIES PCIe NVMe + Seagate 2TB HDD
Liquid Cooling: CyberpowerPC MasterLiquid Lite 360mm ARGB CPU Liquid Cooler
AMD Drives Performance
MERCEDES-AMG PETRONAS ESPORTS
AMD proudly powers the Mercedes-AMG Petronas Esports Team.
The Mercedes-AMG Petronas Esports Team understands that having the best hardware adds a competitive edge. The team has chosen the AMD Ryzen™ 5000 Series desktop processors and AMD Radeon™ RX 6000 Series graphics cards equipped with AMD Smart Access Memory1 for the ultimate gaming advantage. AMD gaming powers the team's gaming rigs for the 2021 F1 Esports Pro Series, providing a highly optimized experience, the same kind of championship-level performance seen on the grid, now in virtual F1.
Are you looking for a powerful gaming PC? CyberPowerPC offers the best gaming PCs powered by AMD Ryzen processors and Radeon Graphics. Our gaming computers are designed to meet the needs of esports professionals and video game content creators and streamers. You need a gaming PC that can handle the most demanding games. With our powerful PCs, you can play any game on the market at the highest settings. Plus, our computers come with features that are perfect for streaming or creating content. So you can work and play at the same time without having to compromise on performance.That's why some of our top video game influencers trust and rely on AMD esports gaming PCs to power thier content. From Bluddshed's who's pushing ever higher great rifts in Diabo III or the cast of NoPixels GTA RP including AnthonyZ, Buddha Lang, and DasMehdi, who provide us thousands of hours of exciting and entertaining content all from thier AMD powered gaming PCs. Purchase a CyberPowerPC AMD esports gaming pc today!
AMD Esports Gaming PCs - for Gaming Pros | CyberPowerPC FAQs
What games are esports?
Technically any video game can become and esports title and it doesn't even need to be multi-player or competitive. What generally elevates a game to an esports level is that there is some level of competition that is recognized by a organized community or professional league.Games like CS:GO and Hearthstone which are inherently competitive so professional leagues involving teams, titles, torphies and prize money were already built in. However, even single player games like Super Mario Bros can become esports through a category called speed running where competitors compete against each other two see who can finish the game the fastest and they even challenge each other at different degrees of difficulty such as finishing an entire game in the fastest time without losing a single life or health point. Some tradititional sports such as chess are still considered traditional sports however when chess is played online, it is offen viewed on esports platforms and largely by the gaming community and while all the marketing and such try to make it seem like an esports, the chess community still considers it to be a traditional sport even though it's played electronically now.
How good of a pc do you need for esports?
How good really depends on the game. There are some esports titles that don't require any high performance hardware at all such as Team Fight Tactics and Hearthstone which are slower turn based games. These types of games can probably work fine on a entry level computer with lower priced value components such as Intel i3 or i5 processors, or AMD Ryzen 3 or Ryzen 5 processors, and as low as an NVIDIA GeForce GTX or AMD Radeon RX 500 graphics cards which all together can be as cheap as $500 to $800 dollars. Another thing to consider is if the game is CPU based or GPU based, for example, Starcraft while not as prominant today in the world of esports is a highly CPU dependent esports game so when you have 10 Protoss Carriers with hundreds of Interceptors units, a low performance CPU may crash as it is incapable of processing all these units simultaneously. However, when it comes to more current mainstream esports titles such as Valorant, Player Unknown's Battlegrounds PUBG or APEX Legends, these titles will not only require high performance hardware at a base level just to play but they can maximize a players completitive edge with higher performance components. In fact for many of these Frame Per Second FPS based games, there is no realistic cap on the potential performance gains. These systems can start at at least $1500 but can go up to as high as $5000. It may not seem like much of a performance difference between 400 FPS and 500 FPS, however many of today's top esports professionals and players with phenomenal gaming abilities such as Shroud can likely take advantage of that FPS difference with stunning accuracy.
Is it cheaper to build or buy a esports gaming PC?
Just like a normal gaming PC, you can build a esports PC from scratch or buy a custom built or prebuilt esport PC for not much of a price difference. However, since esports PCs often use the highest performance components, these components such as a GeForce RTX 4090 or and Intel i9 Core processor are limited in stock, they are often rarely on sale and marked up significantly in retail. Therefore, you are more likely to pay more when buying individual high tier components while the prices for these components in prebuilt and custom built gaming PCs re regulated by the manufacturers to keep the prices reasonable.
What are the specs of an esports PC?
The specs of an esports PC depend highly on the game however the general concensus is that the higher the specs the better the performance which is in most cases always adventageous for an esports player. The only thing is to consider is that for some esports titles a PC can certainly be over spec to the point where the performance advantage has diminishing return for the higher cost. For example the difference in performance and prices between a 3090 and 4090 is significant however in an esports game like League of Legends, it may not be much of a difference competatively.
©2022 Advanced Micro Devices, Inc. All rights reserved. AMD, the AMD Arrow logo, Radeon, FidelityFX, FreeSync, Infinity Cache, RDNA, and combinations thereof are trademarks of Advanced Micro Devices, Inc. HDMI, the HDMI logo and High-Definition Multimedia Interface are trademarks or registered trademarks of HDMI Licensing, LLC in the United States and other countries. Microsoft, Windows, and DirectX are registered trademarks of Microsoft Corporation in the U.S. and/or other jurisdictions.