All AMD Gaming PC Desktop Computers
Best AMD Gaming PC Deals
Esports Essential Gaming PC
Windows 11 Home AMD Ryzen™ 5 5500 Processor AMD Radeon™ RX 6500 XT 4GB Graphics 16GB DDR4/3600MHz RAM GIGABYTE B550 UD AC ATX Motherboard 1TB WD Blue SN580 M.2 PCIe SSD
Est. ship date: 10/11/2023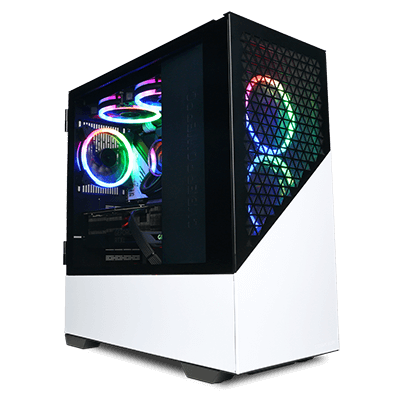 Ultra 4070 Gaming PC
Windows 11 Home AMD Ryzen™ 7 7800X3D Processor GeForce RTX™ 4070 12GB GDDR6X Video Card 32GB (16GBx2) DDR5/6000MHz Memory ASRock B650M-C AM5 Micro ATX Motherboard 1TB WD Blue SN580 M.2 PCIe SSD
Est. ship date: 10/11/2023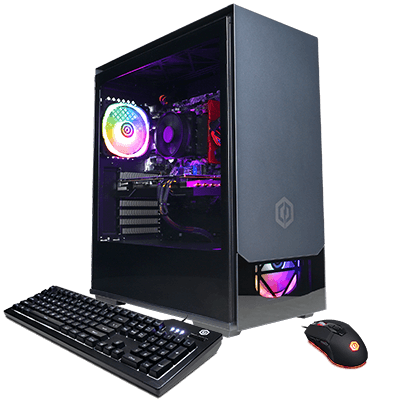 Prebuilt Gaming PC GM 9799
Windows 11 Home AMD Ryzen™ 5 7600 Processor GeForce RTX™ 4060 8GB GDDR6 Video Card 16GB (16GBx1) DDR5/5600MHz Memory B650 AM5 with WIFI Motherboard 1TB PCIe NVMe M.2 SSD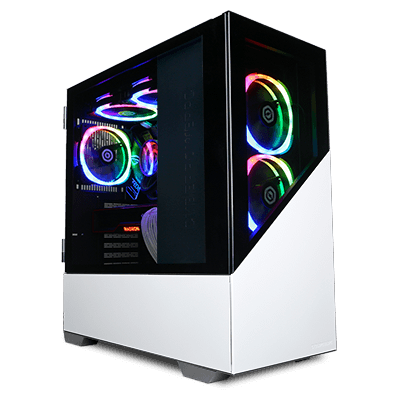 AMD Ryzen 7X Configurator
Windows 11 Home AMD Ryzen™ 7 7700 Processor GeForce RTX™ 4060 8GB GDDR6 Video Card 32GB (16GBx2) DDR5/6000MHz Memory ASRock B650M-C AM5 Micro ATX Motherboard 2TB WD Blue SN580 M.2 PCIe SSD
Est. ship date: 10/11/2023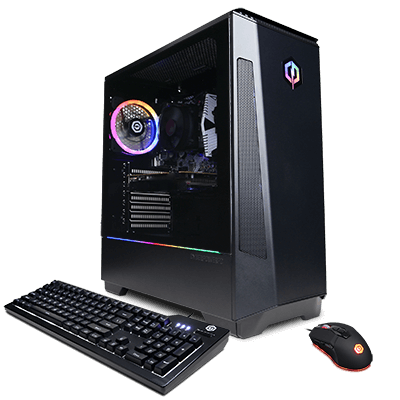 Prebuilt Gaming PC GM 9800
Windows 11 Home AMD Ryzen™ 7 7700 Processor GeForce RTX™ 4060 8GB GDDR6 Video Card 16GB (16GBx1) DDR5/5600MHz Memory B650 AM5 with WIFI Motherboard 2TB PCIe NVMe M.2 SSD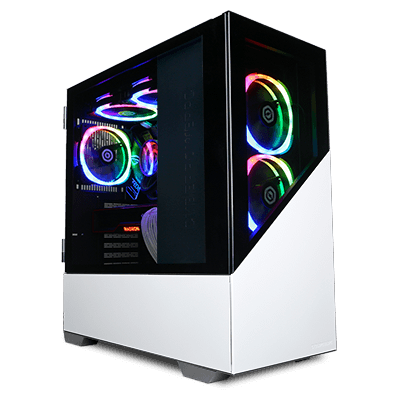 AMD Ryzen 9X Configurator
Windows 11 Home AMD Ryzen™ 9 7900X3D Processor GeForce RTX™ 4070 Ti 12GB GDDR6X Video Card 32GB (16GBx2) DDR5/6000MHz Memory ASRock B650M-C AM5 Micro ATX Motherboard 2TB WD Blue SN580 M.2 PCIe SSD
Est. ship date: 10/11/2023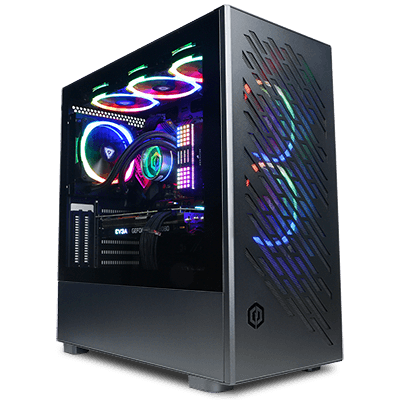 Fall Massive Gaming Special II
Windows 11 Home AMD Ryzen™ 5 7600 Processor AMD Radeon™ RX 7600 8GB Video 32GB (16GBx2) DDR5/6000MHz Memory ASRock B650M-C AM5 Micro ATX Motherboard 1TB WD Blue SN580 M.2 PCIe SSD
Est. ship date: 10/11/2023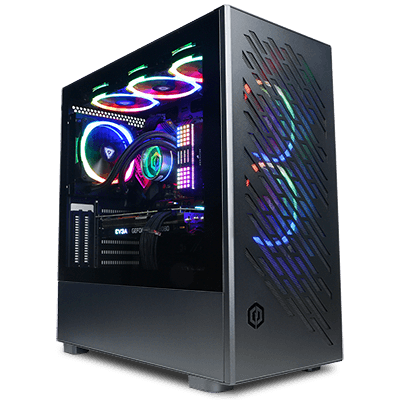 Fall Massive Gaming Ryzen 9
Windows 11 Home AMD Ryzen™ 7 7800X3D Processor AMD Radeon™ RX 7900 GRE 16GB Video 32GB (16GBx2) DDR5/6000MHz Memory 1TB WD Blue SN580 M.2 PCIe SSD ASRock B650M-C AM5 Micro ATX Motherboard
Est. ship date: 10/11/2023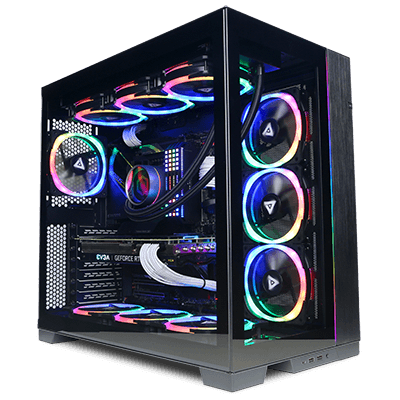 Gaming PC Master 9500
Windows 11 Home AMD Ryzen™ 9 7950X Processor GeForce RTX 4080 16GB GDDR6X Video Card 32GB (16GBx2) DDR5/6000MHz Memory ASUS PRIME X670-P WIFI AM5 ATX Motherboard 2TB WD Blue SN580 M.2 PCIe SSD
Est. ship date: 10/11/2023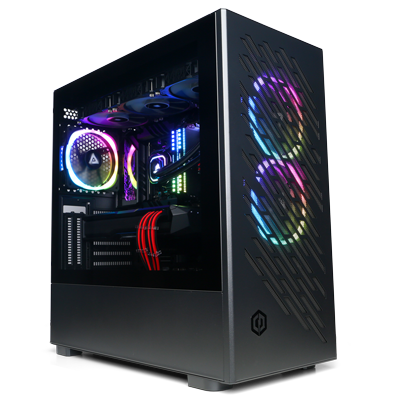 AMD Advantage Gaming PC GM 99607
Windows 11 Home AMD Ryzen™ 9 7950X Processor AMD Radeon™ RX 7900 XTX 24GB Video 32GB GSKILL TRIDENT Z5 RGB DDR5/6000MHz RAM ASROCK X670E PG Lightning AM5 Motherboard 2TB SOLIDIGM P41 Plus M.2 PCIe SSD
Gaming PC Master 9000
Windows 11 Home AMD Ryzen™ 7 7800X3D Processor GeForce RTX™ 4060 Ti 16GB GDDR6 Video Card (DLSS 3.0) [AI-Powered Graphics] 32GB (16GBx2) DDR5/6000MHz Memory ASRock B650M-C AM5 Micro ATX Motherboard 1TB WD Blue SN580 M.2 PCIe SSD
Est. ship date: 10/11/2023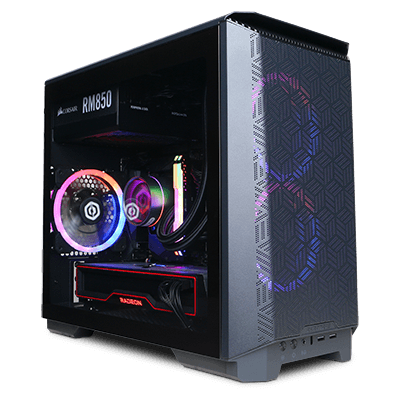 EVO Mini A 200
Windows 11 Home AMD Ryzen™ 5 7600 Processor GeForce RTX™ 4070 12GB GDDR6X Video Card 32GB (16GBx2) DDR5/6000MHz Memory MSI MPG B650I EDGE WIFI DDR5 mITX Motherboard 1TB WD Blue SN580 M.2 PCIe SSD
Est. ship date: 10/11/2023
Syber C Core 100
Windows 11 Home AMD Ryzen™ 5 5500 Processor GeForce® GT 1030 2GB GDDR4 16GB DDR4/3600MHz RAM ASROCK X570 Phantom Gaming-ITX/TB3 Mini iTX RGB Motherboard 500GB Kingston SNV2S/500G (PCIe Gen4) M.2 PCIe NVMe
Est. ship date: 10/11/2023
Battlebox Ultimate
Windows 11 Home AMD Ryzen™ 9 7950X3D Processor GeForce RTX™ 4070 Ti 12GB GDDR6X Video Card 32GB (16GBx2) DDR5/6000MHz Memory ASUS PRIME X670-P WIFI AM5 ATX Motherboard 1TB WD Blue SN580 M.2 PCIe SSD
Est. ship date: 10/11/2023
Nothing Found.
Looking for a powerful gaming PC that will handle the most demanding games? CyberPowerPC has you covered. Our Gaming PCs powered by Ryzen processors and Radeon graphics cards give you the power to play any game at the highest settings without having to worry about lag or dropped frames. With our PCs, you can experience gaming like never before. The stunning visuals and immersive audio will transport you into another world, and the responsive controls will let you dominate your opponents with ease. Plus, our PCs are upgradable, so you can keep pace with the latest hardware innovations. Order your new CyberPowerPC AMD gaming PC today.
AMD Gaming PCs - Powered by AMD Ryzen & Radeon | CyberPowerPC FAQs
Are AMD PCS good for gaming?
AMD PCs are great for gaming, especially the Ryzen series of CPUs which are design specifically for gaming. A Ryzen 3 processor can handle a majority of today's games, however Ryzen 5 and above will always give you a greater competitive advantage.
What is the best AMD PC?
Our top Ryzen 9 configurations can start at $3600 or more such as our Gamer Master 9500 which features both the highest performance Ryzen CPU and the highest current GPU on the market.
Are Ryzen gaming computers good?
Ryzen based gaming computers are not only good but they are great for gaming while also being affordably priced. When paired with an AMD Radeon graphics card you can get even higher performance than other component combinations.
Should I go AMD or Nvidia?
Well, when it comes to graphics cards, they are both fairly comparable in performance. One key factor to keep in mind is that each work with different game publishers to optimize their games for specific cards so some games will perform better on certain cards.