HTC VIVE Virtual reality Headset

(1)
CyberPower Gaming HTC VIVE Virtual Reality Headset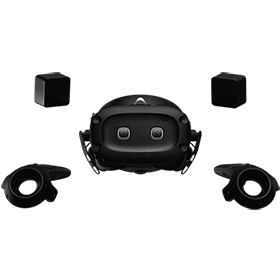 HTC Vive Cosmos Elite Virtual Reality System
Experience a stunning VR experience on your CyberPowerPC with a HTC Vive Cosmos Elite Virtual Reality System. The HTC Vive Cosmos Elite headset features 1440 x 1770 pixels per eye and has a 90hz refresh rate. The Vive VR headset can support a maximum of 110 degrees field of view. Included with the headset is the controllers featuring a multifunction trackpad, grip buttons, dual-and stage triggers. Level up your VR gaming experience.
Gear Store | HTC Vive Cosmos Elite VR Headset | CyberPowerPC FAQs
Which VR headset is worth buying?
The HTC Vive Cosmos Elite is one of the best in class VR headsets when it comes to playing high end VR games. The headset itself is light weight, making it comfortable for extended play sessions. If you are looking to buy a headset for VR gaming on your CyberPowerPC, look no further than the HTC Vive Cosmos Elite.