Finance Your Dream Gaming PC
Pay at your own pace starting at 0% APR
When you need a new computer you know it so we want to make it affordable so you can say yes with confidence - Select Affirm at checkout to split your purchase into monthly payments starting at 0% APR with no hidden fees. And for a limited time, get as low as 0% APR.
Limited Time Offers
CURRENT PROMOTIONS
How It Works
Choose 3, 6, or 12 monthly payments
For example, a $1,000 purchase might cost $167/mo over 6 months at 0% APR
Transparent
With Affirm, there are no late fees, service fees, prepayment fees, or any hidden fees.
Simple
it only takes a moment, and checking your eligibility won't affect your credit score.
Fair
Affirm won't charge you late fees or penalties of any kind, ever.
Frequent Asked Questions
FAQs
Can I pay off my purchase early?
Yes! There's no penalty for paying early.
How do I make payment?
You can make or schedule payments at affirm.com or in the Affirm app for iOS or Android. Affirm will send you email and text reminders before payments are due.
Does checking my eligibility affect my credit score?
No - your credit score won't be affected when you create an Affirm account or check your eligibility. If you decide to buy with Affirm, this may impact your credit score. You can find more information in Affirm's Help Center.
Can I return an item I bought with Affirm?
Yes - you can return an item you bought with Affirm by initiating the return process with CyberPowerPC first.
Do I need a mobile number to use Affirm?
Yes, you'll need a mobile phone number from the U.S. or U.S. territories. This helps Affirm verify it's really you who is creating your account and signing in.
Where can I learn more about Affirm?
You can visit their website at affirm.com.
Your rate will be 0% APR or 10–30% APR based on credit, and is subject to an eligibility check. For example, a $1000 purchase might cost $167/mo over 6 months for as low as 0% APR. For purchases under $100, limited payment options are available. Payment options through Affirm are provided by these lending partners: affirm.com/lenders. Options depend on your purchase amount, and a down payment may be required.
Infinity 8800 Pro Gaming PC
Windows 11 Home Intel® Core™ Processor i7-13700K GeForce RTX™ 4070 12GB GDDR6X Video Card 16GB (16GBx1) DDR5/6000MHz Memory ASUS PRIME Z790-P WIFI D5 DDR5 Motherboard 2TB Kingston SNV2S/2000G (PCIe Gen4) NVMe M.2 SSD
Est. ship date: 6/12/2023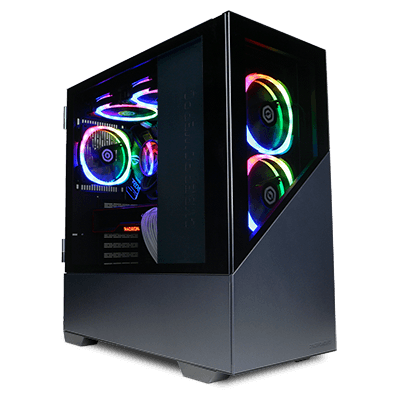 Graduation 2023
Windows 11 Home Intel® Core™ Processor i7-13700KF GeForce RTX™ 4070 12GB GDDR6X Video Card 16GB (16GBx1) DDR5/6000MHz Memory ASUS PRIME Z790-P WIFI D5 DDR5 Motherboard 2TB Kingston SNV2S/2000G (PCIe Gen4) NVMe M.2 SSD
Est. ship date: 6/12/2023

Infinity XLC Gaming PC
Windows 11 Home Intel® Core™ Processor i9-13900K GeForce RTX™ 4070 Ti 12GB GDDR6X Video Card 16GB (16GBx1) DDR5/6000MHz Memory ASUS PRIME Z790-P WIFI D5 DDR5 Motherboard 1TB Kingston SNV2S/1000G PCIe Gen 4 SSD + 4TB HDD Combo
Est. ship date: 6/12/2023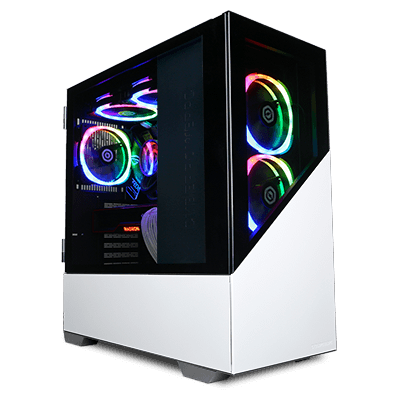 AMD Ryzen 9X Configurator
Windows 11 Home AMD Ryzen™ 9 7900X3D Processor GeForce RTX™ 4070 Ti 12GB GDDR6X Video Card 16GB (16GBx1) DDR5/6000MHz Memory ASRock B650M-C AM5 Micro ATX Motherboard 2TB Kingston SNV2S/2000G (PCIe Gen4) NVMe M.2 SSD
Est. ship date: 6/12/2023
CyberPower Z790 i3 Configurator
Windows 11 Home Intel® Core™ Processor i3-13100F Intel® Arc™ A380 6GB GDDR6 Video 16GB (16GBx1) DDR5/6000MHz Memory ASUS PRIME Z790-P WIFI D5 DDR5 Motherboard 2TB Kingston SNV2S/2000G (PCIe Gen4) NVMe M.2 SSD
Est. ship date: 6/12/2023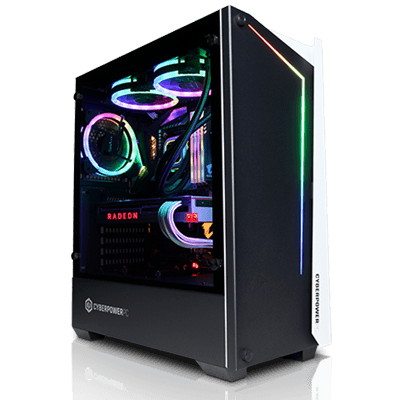 Gamer Xtreme 3000
Windows 11 Home Intel® Core™ Processor i7-12700KF AMD Radeon™ RX 6650 XT 8GB Graphics 16GB (16GBx1) DDR5/6000MHz Memory ASRock Z790-C/D5 DDR5 Motherboard 2TB Kingston SNV2S/2000G (PCIe Gen4) NVMe M.2 SSD
Est. ship date: 6/12/2023