Why I chose Cyberpower:
I had ordered my first Cyberpower machine 6/11/2008
Gamer Ultra 6210 Desktop PC Athlon 64 X2 5200+ 2GB DDR2 320GB HDD Capacity NVIDIA GeForce 8500 GT Windows Vista Home Premium 32, I still have the Apevia case but have since upgraded all those parts inside. It worked right out of the box, I never had a single issue with it at $440.00 a very good deal.
I continued as a member of the forum check it a good bit and check the web page often.
I myself rebuilt the Gamer Ultra 6210 about a year ago:
Cyberpower in name only (Upgrade)
e8400 @ 3.6Ghz @1.28v
Gigabyte EP45T-DS3R
Patriot Viper 4GB DDR3
320GB SATA-II HD
Gigabyte Radeon HD 5870 1GB
DVD/RW x20
Windows Vista Home Premium 32
So in research I find this year I am behind the times in my PC specs, with age and eyesight I dreaded building a new machine. I run right over to the forum and then to the configurator and see that I can get what I want about as cheap as putting it together. So I run it by the forum members and a few PC entusiast forums and came up with the system below.
Case: Zalman Z9 Plus Mid-Tower Gaming Case w/ Side Panel Window/12in Cold Cathode Neon Light/Maximum 120MM Color Case Cooling Fans
ENGRAVING: Custom: Arrowslinger
Processor: i5-2500K @ 3.30 GHz
Cooling: Corsair Hydro Series H60 High Performance Liquid Cooling System 120MM Radiator & Fan
Hard Drive: 500GB SATA-II 3.0Gb/s 16MB Cache 7200RPM HDD
Ram: Kingston HyperX 8GB (2GBx4) DDR3/1600MHz Dual Channel Memory
Motherboard: GigaByte Z68AP-D3 Intel Z68
Power Supply: 1,000 Watts - Raidmax RX-1000AE 80 Plus Gold
Video Card: ATI Radeon HD 5450 512MB DDR2 / Swapping to Radeon 5870 1 GB I already have.
Operating System: Windows 7 Home Premium, 64 bit.
Total Cost: $968.00 with shipping
The Forum And Ordering:
Great members and many opinions some saw my choice of power supply as bad and the motherboard could have been better. A little research found both in mid range and I felt happy with my build.
The ordering process and building the computer is a joy, I built and rebuilt the system several times, it offers a save feature where you can also compare the builds. The site and ordering is very simple and fun.
I chose the Radeon HD 5450 512MB DDR2 as it was the cheapest card, I will replace it with my Gigabyte Radeon HD 5870 1GB My old computer is going to my son so it all works out.
Order placement:
Ordered: 12/13/2011
Order Authorized: 12/16/2011
Warehouse Date: 12/16/2011
Assembly Date: 12/22/2011
Quality Control Date: 12/22/2011
Final Quality Control Date: 12/23/2011
Invoice and UPS Tracking Number: 12/23/2011
Departed Cyberpower via UPS: 12/23/2011
Arrived Hodgkins Il.: 12/28/2011
Arrived (My hometown hub): 12/29/2011
Out for delivery: 12/30/2011
For some reason my boss found the need to have me work the day shift on delivery day, so wife took delivery at 12:42 P.M. today!
UPS tracking is hiedous if it leaves on a truck and makes a non stop run, there are no updates or scans for you to track it. So five days I am in limbo wondering just what is going on, this really is not Cyberpowers fault nor UPS considering I read about the scan procedure on their website later.
Okay I got home and checked out the delivery box it had no caved in spots just dirt from people to lazy to pick it up and would rather slide it.
Typical unboxing foam padding kept the case box, motherboard and keyboard boxes all firm and snug. Paperwork right on top showing just what was ordered and inside the box, motherboard box contained disks for motherboard, video card and cyberpowers version of windows 7
It also contained all the extras for the motherboard, washers screws and the extras for the power supply cables and the extra video card cables. All manuals were packed neatly under all of the above.
Should I bitch about not getting that plastic tub the Raidmax power supply comes in? I think this was left out do to packaging, in looking at the shipping box it would have taken a bigger box to include that.
I grabbed a bath towel and sat the PC on the dining room table the wife would have killed me if I scratched it
I love the case not flashy at all but very modern and cool, my internet handle engraving could have been nicer but looks okay. The cyberpower logo stick on is crooked hell the last one I ordered was crooked also? But I will not be leaving that on to me it is like the license plate holder from a car dealership, I am not being paid for free advertising sorry.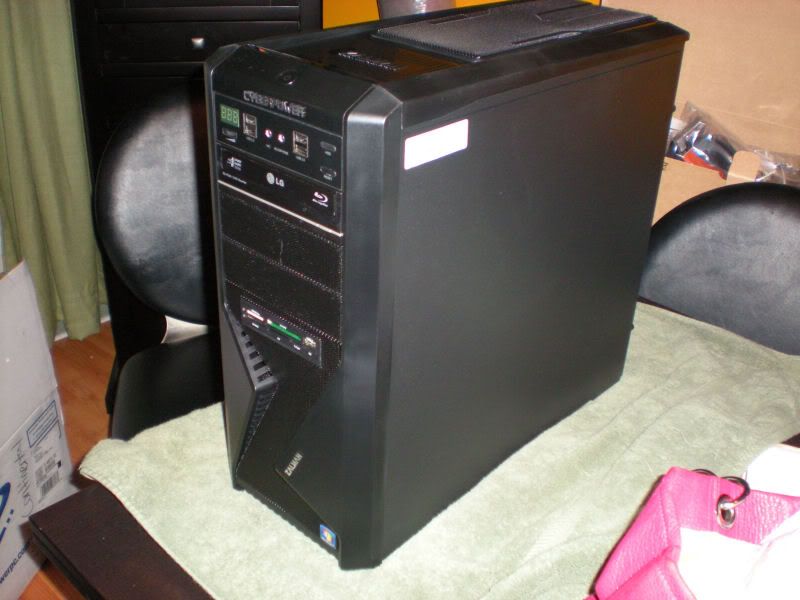 I take the door off and see one light tube had gotten bumped around in shipping, no biggie I stuck it back. The cabling for the power supply was tucked in under the hard drive a bit messy but was cable tied. All hardware was seated nicely and firm no loose fittings anywhere
FANS OMG FANS, two in the top, one in the bottom, one in the door and one between the case and radiator. One of the fans in the top close to front of PC is red and not blue like the others? That is okay after all it is a Christmas PC
The fans are not noisy but I can hear it compared to my old two fan case.
I pulled out the tiny 5450 and replaced it with my 5870 omg that card is a monster in size. After seating and bolting it in I ran another check for proper seating.
ITS ALIVE!
I placed it at my desk hooking up the mouse and keyboard, I use a wireless usb device and plugged it in. About a week ago I downloaded new video card drivers, cpuz, realtemp, gpuz, 3dmark vantage and 11 onto a thumb drive, I plugged it in to.
Hit the power button NOTHING no anything I am now cussing considering all the dead PC posts. So now I am mad and tired so I took a break went outside had a smoke and went over just how I was going to yell at tech support. Then it dawned on me "IS THE POWER SUPPLY TURNED ON YOU MORON???"
Sure enough it was not I turned it on hit the button and my new PC blazed up with glorious POWER!!!!!!!!!!!!!!!!!!!!
ONE ISSUE HERE:
How can a PC be tested if the first screen you see is windows loading for the first time? That means the OS is stopped at a certain point of install shut off and boxed up, this should not be the case, why you ask? Because after boot up in device manager you get a bunch of these
Sure enough I have to update the motherboard drivers, sound, usb etc
I then installed video drivers, some testing software and, activated windows and applied all windows updates. Reboot found all working just fine, case temp is 17 to 21 Celsius great considering my home is in that range.
The touch bios from the motherbard software is crap just a boost makes the machine not boot. Not a surprise overclocking should always be done in the normal bios, after turning off the power saving features and turbo in bios the cpu is running at its 3.3 Ghz I will get to overclocking after the PC settles in a bit.
A few benchmarks and all is well for now, in all I give this whole process from order to power up a 7 on a scale of 10


Edited by Arrowslinger - 01 Jan 2012 at 5:38am