Gaming PCs & Prebuilt Gaming PC Desktops - The Pro Gamers PC of Choice
Best Gaming PC Computer Deals
Daily Deal VR i7K
Windows 11 Home Intel® Core™ Processor i9-13900KF GeForce RTX™ 3080 10GB GDDR6X 32GB (16GBx2) DDR5/6000MHz Memory GIGABYTE Z690 UD AC ATX DDR5 Motherboard 2TB SOLIDIGM P41 Plus M.2 PCIe SSD
Est. ship date: 1/20/2023
Esport Essential Gaming PC
Windows 11 Home AMD Ryzen™ 5 5500 Processor AMD Radeon™ RX 6600 XT 8GB Graphics 16GB DDR4/3600MHz RAM GIGABYTE B550 UD AC ATX Motherboard 1TB WD Black SN750 SE M.2 PCIe SSD
Est. ship date: 1/20/2023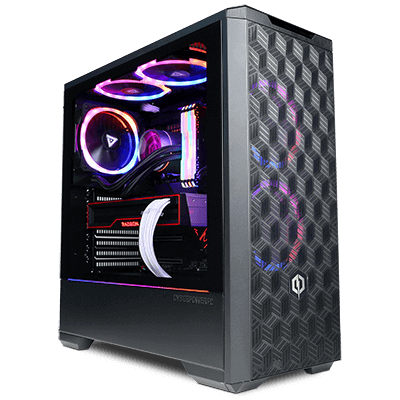 Xtreme 3060 Ti Gaming PC
Windows 11 Home Intel® Core™ Processor i7-13700KF GeForce RTX™ 3060 Ti 8GB GDDR6 32GB (16GBx2) DDR5/6000MHz Memory ASUS PRIME Z790-P WIFI D5 DDR5 Motherboard 1TB WD Black SN750 SE M.2 PCIe SSD
Est. ship date: 1/20/2023
Esport Essential Gaming PC
Windows 11 Home AMD Ryzen™ 5 5500 Processor AMD Radeon™ RX 6600 XT 8GB Graphics 16GB DDR4/3600MHz RAM GIGABYTE B550 UD AC ATX Motherboard 1TB WD Black SN750 SE M.2 PCIe SSD
Est. ship date: 1/20/2023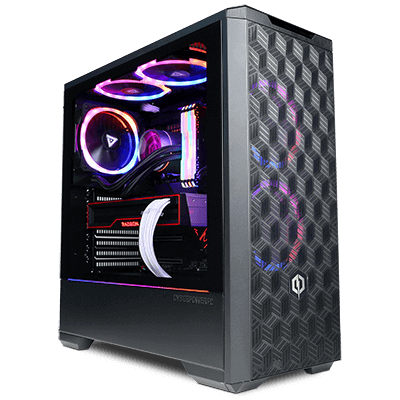 Xtreme 3060 Ti Gaming PC
Windows 11 Home Intel® Core™ Processor i7-13700KF GeForce RTX™ 3060 Ti 8GB GDDR6 32GB (16GBx2) DDR5/6000MHz Memory ASUS PRIME Z790-P WIFI D5 DDR5 Motherboard 1TB WD Black SN750 SE M.2 PCIe SSD
Est. ship date: 1/20/2023
Ultra 3070 Gaming PC
Windows 11 Home AMD Ryzen™ 9 7900X Processor GeForce RTX™ 3070 8GB GDDR6 32GB (16GBx2) DDR5/6000MHz Memory ASRock B650M-C AM5 Micro ATX Motherboard 1TB WD Black SN750 SE M.2 PCIe SSD
Est. ship date: 1/20/2023

Creator PC Ultimate
Windows 11 Home Intel® Core™ Processor i9-13900K GeForce RTX 4090 24GB GDDR6X Video Card 32GB (16GBx2) DDR5/6000MHz Memory ASUS PRIME Z790-P WIFI D5 DDR5 Motherboard 1TB WD Black SN750 SE M.2 PCIe SSD
Est. ship date: 1/20/2023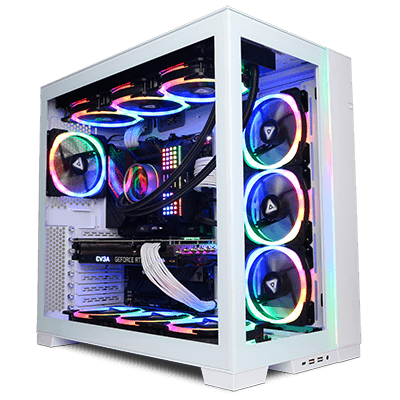 Gaming PC Infinity 8800 Pro SE
Windows 11 Home Intel® Core™ Processor i9-13900KF GeForce RTX™ 3080 10GB GDDR6X 32GB (16GBx2) DDR5/6000MHz Memory ASUS PRIME Z790-P WIFI D5 DDR5 Motherboard 1TB WD Black SN750 SE M.2 PCIe SSD
Est. ship date: 1/20/2023
Syber M Pro 200
Windows 11 Home Intel® Core™ Processor i7-12700KF Intel® Arc™ A770 8G GDDR6 Video Card 32GB (16GBx2) DDR5/6000MHz Memory GIGABYTE Z690 UD AC ATX DDR5 Motherboard 1TB WD Black SN750 SE M.2 PCIe SSD
Est. ship date: 1/20/2023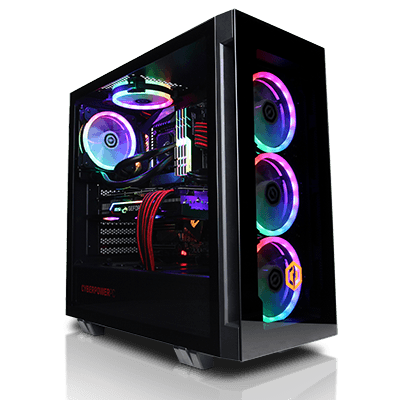 Infinity 8000 Gaming PC
Windows 11 Home Intel® Core™ Processor i7-12700F GeForce RTX™ 3050 8GB GDDR6 32GB (16GBx2) DDR5/6000MHz Memory ASUS PRIME Z790-P WIFI D5 DDR5 Motherboard 1TB WD Black SN750 SE M.2 PCIe SSD
Est. ship date: 1/20/2023
Gamer Infinity 8800 Pro
Windows 11 Home Intel® Core™ Processor i7-13700K GeForce RTX™ 3070 Ti 8GB GDDR6X 32GB (16GBx2) DDR5/6000MHz Memory ASUS PRIME Z790-P WIFI D5 DDR5 Motherboard 1TB WD Black SN750 SE M.2 PCIe SSD
Est. ship date: 1/20/2023
Holiday RTX 3060
Windows 11 Home Intel® Core™ Processor i5-12600KF GeForce RTX™ 3060 12GB GDDR6 32GB (16GBx2) DDR5/6000MHz Memory 1TB WD Black SN750 SE M.2 PCIe SSD ASUS PRIME Z790-P WIFI D5 DDR5 Motherboard
Est. ship date: 1/20/2023

Infinity XLC Gaming PC
Windows 11 Home Intel® Core™ Processor i9-13900K GeForce RTX 4080 16GB GDDR6X Video Card 32GB (16GBx2) DDR5/6000MHz Memory ASUS PRIME Z790-P WIFI D5 DDR5 Motherboard 1TB WD Black SN750SE PCIe Gen 4 SSD + 4TB HDD Combo
Est. ship date: 1/20/2023
Prebuilt Gaming PC GLX 99175
Windows 11 Home Intel® Core™ Processor i7-13700KF GeForce RTX™ 3070 8GB GDDR6X 16GB (16GBx1) DDR5/4800MHz Memory Z790 DDR5 Motherboard 1TB WD Black SN750 SE M.2 PCIe SSD
Nothing Found.
$seotext
What is a decent price for a gaming PC? How decent a price is depends on many factors, one of these is if it's good enough to play the game you like. A system decent enough for one game may not be decent at all for another game.
Is it cheaper to build or buy a gaming PC? In most situations you will not save much money when building your own computer compared to buying a custom PC from CyberPowerPC. In fact, we suggest you compare it yourself by using a tool like PCPartPicker to compare the prices.
Is 16 GB of RAM good? 16 GB of RAM is a decent enough amount that you probably won't run into issues with most games. Even 8GB in most cases is enough if you avoid having too many browser tabs open at once. However, for graphic design, video or 3D rendering, 32 GB more ideal.
What PC is best for Minecraft? At the basic level, you can get a way a system under $800. However, once you start doing things like using shader mod packs or raising thousands of chickens, the system requirements can start scaling up quickly where even top-of-the-line PCs can struggle.